Are you looking for a place to live with great weather in addition to world-class culture, beautiful scenery, and soul-pleasing food? If so, Italy is your place. The weather in Italy is variable depending on which region you are in. Generally, summers are hot and humid while winters tend to be chilly and wet. However, temperatures can range widely from cold northern regions like Piedmont to warm southern areas like Sicily.
So what is the weather like in Italy by month? This is difficult to answer in one sentence because Italy stretches from north to south, and it has very different geographies and climates. To offer you a clear idea of what it feels like to live in Italy weather-wise, we are breaking down Italy's weather by major regions that share similar climate characteristics.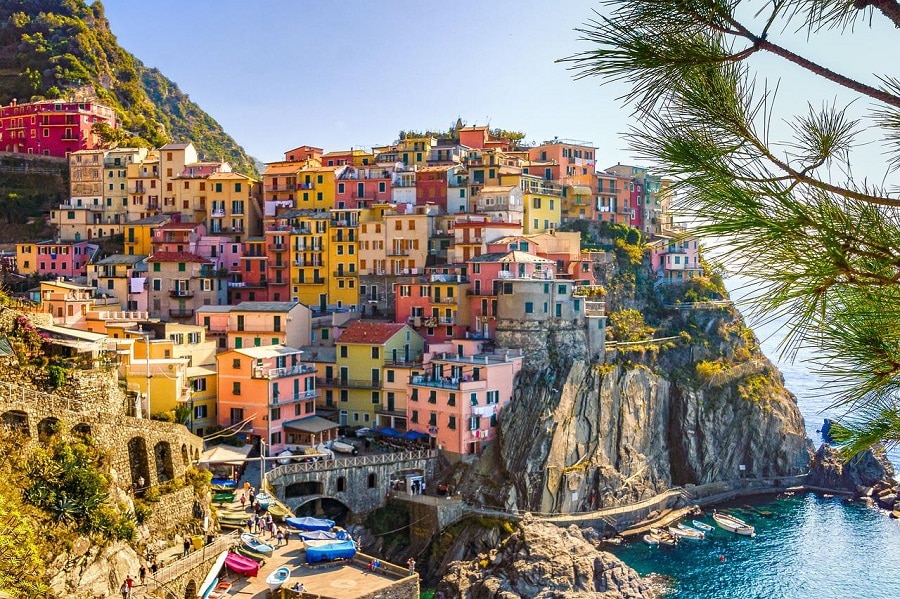 The temperature in Northern Italy ranges from 36 degrees to 52 degrees Fahrenheit in the coldest month, which is February, but it can certainly get colder in the mountains. The temperature then gradually gets warmer and peaks at around 90 degrees Fahrenheit in August, which is the warmest month. Similarly, Central Italy has temperatures that range from 45-60 degrees Fahrenheit in its coldest months and 74-96 degrees days during its hottest months.
The weather in Rome can be very pleasant for eight to nine months of the year if you are trying to avoid extreme heat or freezing temperatures. Southern Italy experiences somewhat similar weather patterns with hot summers, as its summer temperatures hover around 68-92 degrees Fahrenheit on average, but very mild winters, often in the upper 40s and in the 50s.
Overall, when you live in Italy, you can count on plenty of sun throughout the year, around 190 sunny days on average. In terms of seasons, springtime flowers blooming everywhere signals the start of warmer weather after a colder winter. Summer usually lasts from June until September, and that's when Italians enjoy going to the beach or mountains for vacations. Autumn sees cooler temperatures as leaves change color before falling off trees; this season also marks harvest time for many Italian farmers. Winter brings snowfall in the northern parts of the country along with Christmas celebrations nationwide. The rainiest months in Italy are October and November.
Now, here's a quick overview of the weather in Italy by month:
Weather in Italy in January
The weather in Italy during January is quite cold, with temperatures typically ranging from 35-64 degrees Fahrenheit, on average. Of course, there are exceptions, like living at high altitudes will mean colder temperatures, and living by the sea in the south will mean milder temperatures. You'll want to dress warmly for this month, with layers being key. A coat, scarf, and hat are a must for spending time outdoors. If you're looking for something fun to do in Italy in January, consider skiing in the Dolomites mountains, which offer stunning views of the surrounding scenery. Or, if you're more of a city-dweller, take advantage of the many indoor museums and historical sites that Rome has to offer. No matter what your interests are, there's sure to be something for everyone in Italy during January!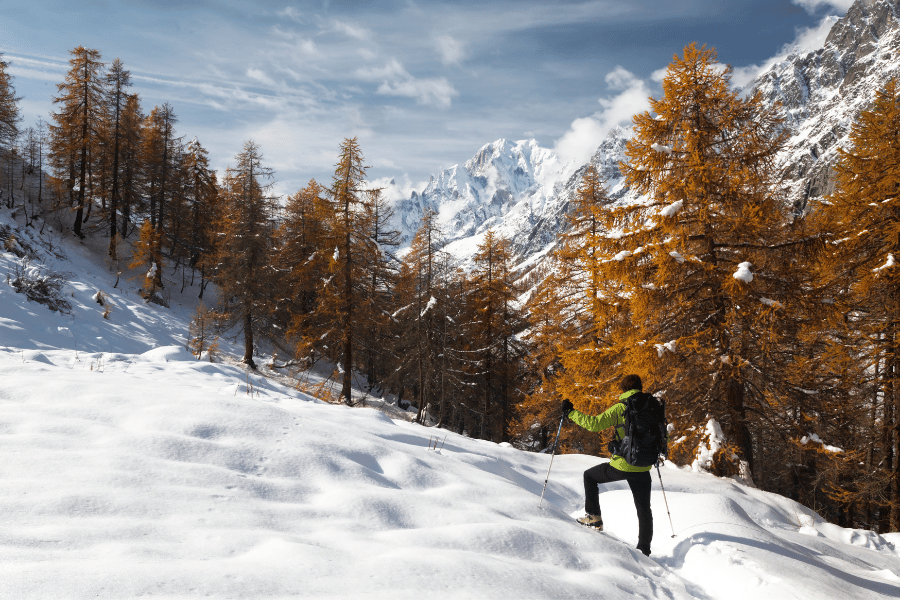 Italy's Weather in February
The weather in Italy during February is cool to cold, with temperatures ranging from 55-62 degrees Fahrenheit. In central and southern Italy, February is already showing a little hint of spring. You'll want to dress warmly, in layers that you can remove if the temperature rises. Some fun activities to do this month include visiting one of the many museums or art galleries dotting the country, going for long walks outdoors (wrap up well!), and sampling some of the delicious seasonal cuisines on offer. If you're lucky enough to catch a sunny day, make the most of it by exploring one of Italy's many gorgeous coastal towns or city parks. And on Valentine's Day, why not treat yourself to a luxurious meal and some world-famous Italian wine?
March Weather in Italy
If you're in Italy in March, be prepared for unpredictable weather, as it can be either cool, or you might experience a beautiful early spring. Of course, this also depends on how far north or south you are located. The average temperature during this month is 56-64°F. March is a great time to visit Italy since there are fewer crowds and hotel prices are lower than in peak season. As far as clothing goes, layer light items like cotton shirts and sweaters that can be easily removed if necessary. And don't forget a jacket or coat for evenings out; leather jackets are always stylish and Italy is famous for its leather products.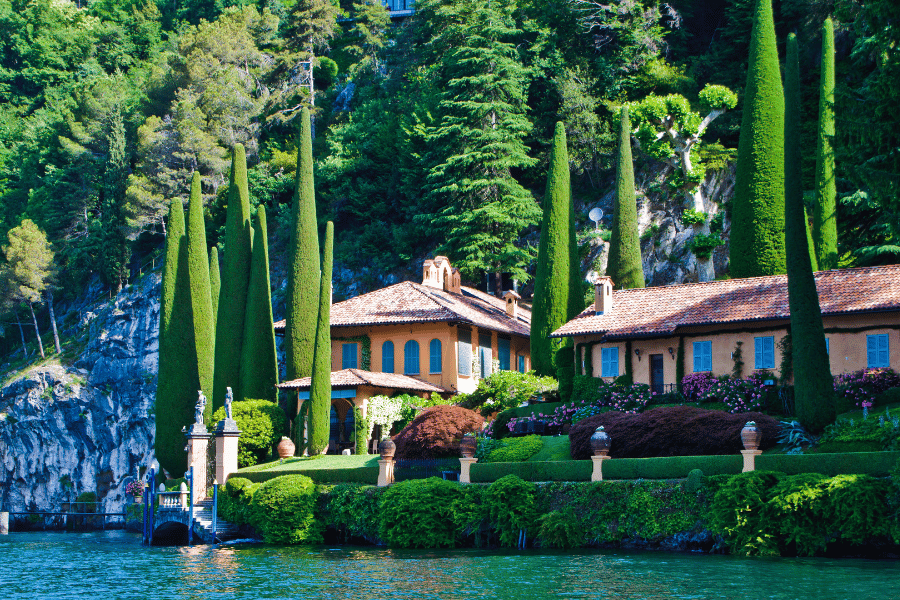 Weather in Italy in April
Italy is a beautiful country with plenty to do and see, no matter what the weather. That being said, it certainly helps if the weather is pleasant. April is a perfect month to be in Italy, as the weather is mild, sunny, and there are blooming flowers everywhere. The average temperature in Italy during April is 57-67 Fahrenheit. During this month, you can expect cool mornings and evenings, with warm days in between. It's important to pack a few layers for your trip, as the weather can vary throughout the day. A light sweater might be needed for cooler morning and evening hours, while shorts or Capri pants will be perfect for daytime sightseeing. In south Italy, you can even sunbathe in April, but the sea water can be a bit chilly for swimming.
Italy's Weather in May
May is a great time fully enjoy magnificent Italy! The weather is warm, but not too hot, and you can certainly take advantage of all the outdoor activities available. For starters, you'll want to pack light clothing that can be layered. A sweater may be necessary for early mornings and evenings, but during the day you should be comfortable in shorts and a t-shirt. If you're looking for something fun to do outdoors, May is the perfect month for exploring all that Italy has to offer. From hiking in the mountains to strolling through vineyards, there's something for everyone. And don't forget about the beaches! With temperatures from 65-73 Fahrenheit, it's just right for the early season of swimming and sunbathing. Just remember to apply sunscreen regularly – Italian sunlight can be intense!
June Weather in Italy
In June, the weather in Italy is fairly warm, with temperatures typically ranging from 70-80 degrees Fahrenheit. You'll want to dress accordingly by wearing light and airy clothing that won't make you too hot. This is also a great time of year to get outside and enjoy Italy's natural wonders, such as the rolling hills of Umbria or the vineyards of Tuscany! Take advantage of the warmer weather by going for walks or hikes, visiting historical landmarks, and indulging in some seaside activities like swimming or sunbathing at the beach. No matter how you choose to spend your time in Italy during this month, you're sure to enjoy the best weather of the year.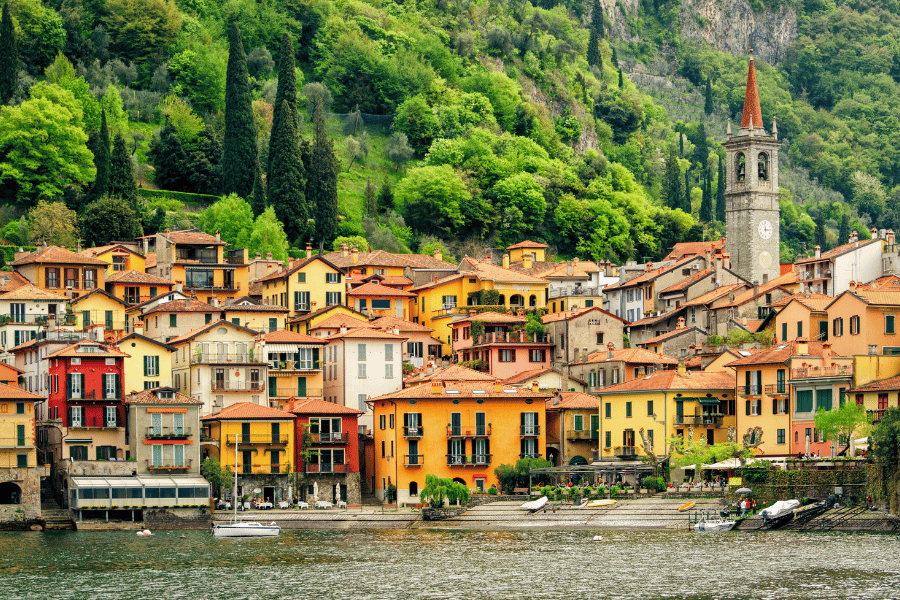 Weather in Italy in July
If you're traveling to Italy in July, be prepared for some hot weather! The average temperature during this month is 76-85 degrees Fahrenheit. To stay cool and comfortable, dress in lightweight clothing made from natural fibers like cotton or linen. You'll also want to pack a hat and sunglasses to protect yourself from the strong Mediterranean sun. When it comes time to relax and have some fun, there are plenty of outdoor activities to enjoy throughout the country. Take a refreshing dip in one of Italy's many lakes or rivers, go hiking through pristine forests or vineyards, or spend an afternoon lounging on the beach soaking up those Mediterranean rays!
Italy's Weather in August
If you're spending your August in Italy, be prepared for some very hot weather. The average temperature during the month is 80-91 degrees Fahrenheit, so pack light clothing that breathes well. Learn from the locals and stay indoors in the shade during the peak midday hours. You'll also want to stay hydrated and wear sunscreen. Italians love their gelato, as it is the most delicious way to fight hot weather, so join in.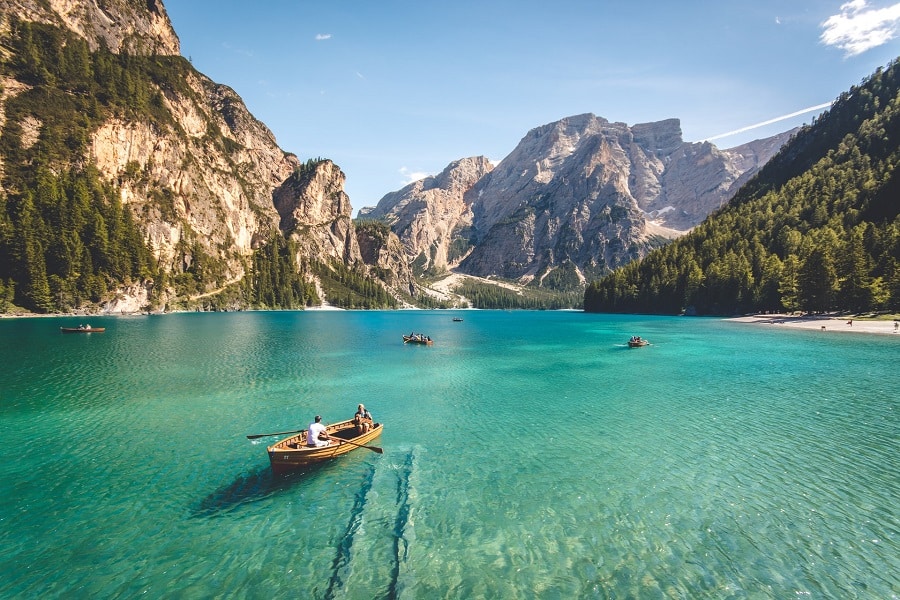 September Weather in Italy
The weather in Italy during September is usually gorgeous, sunny, and warm, with the average temperature being 77-87°F. It can get really hot some days, so make sure to wear light and airy clothing if you plan on being outside for long periods. Italy is a great place to go explore during September because there are so many outdoor activities to do, like biking through the vineyards, which are reaching their peak season and best colors this time of year. Another favorite pastime in Italy is taking a dip in one of the many lakes throughout the country or simply enjoying the lake views with a Spritz Aperol from the sidelines.
Weather in Italy in October
In October, the weather in Italy is usually cool or mild as the temperature is around 70-78 Fahrenheit. You might experience some warm days, but overall, the temperature should be comfortable enough to wear a light jacket or sweater. It's also a great time of year to visit as the tourist crowds are gone and you can still enjoy all of the wonderful attractions that Italy has to offer. When packing for your trip, make sure to bring along clothes that can be layered and an umbrella, so you'll be prepared for any type of weather. And don't forget your sunscreen. Even though the sun may not be as strong in October, it's always important to protect your skin from UV rays, especially if you are in Southern Italy.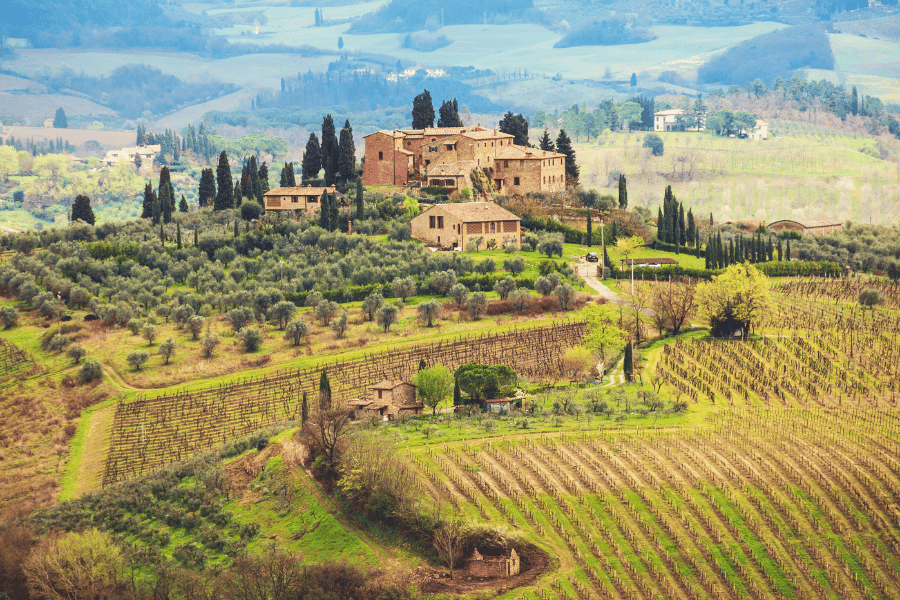 Italy's Weather in November
In Italy, November is a relatively cool month with average temperatures ranging from 53 to 71 degrees Fahrenheit. The mountainous regions of Italy in the north get a lot colder this time of year, with temperatures dropping in the 40s. To stay comfortable in November in Italy, layered clothing is recommended since the weather can be unpredictable. For example, you may need a warm jacket for cooler evenings but can get by with just a sweater or a tee shirt during the day.
December Weather in Italy
December in Italy is generally a cold time of year, with average temperatures ranging from 40-66 degrees Fahrenheit. You'll want to dress warmly during this month, as the weather can get colder even in the south. Nights can be chilly, so you may want to pack a more substantial coat if you're planning on spending any time outdoors after dark. Despite the cooler temperatures, Italy dresses up in lights and Christmas decorations in December and it is quite charming to explore on foot the streets of small towns and large cities and enjoy the heartwarming holiday atmosphere.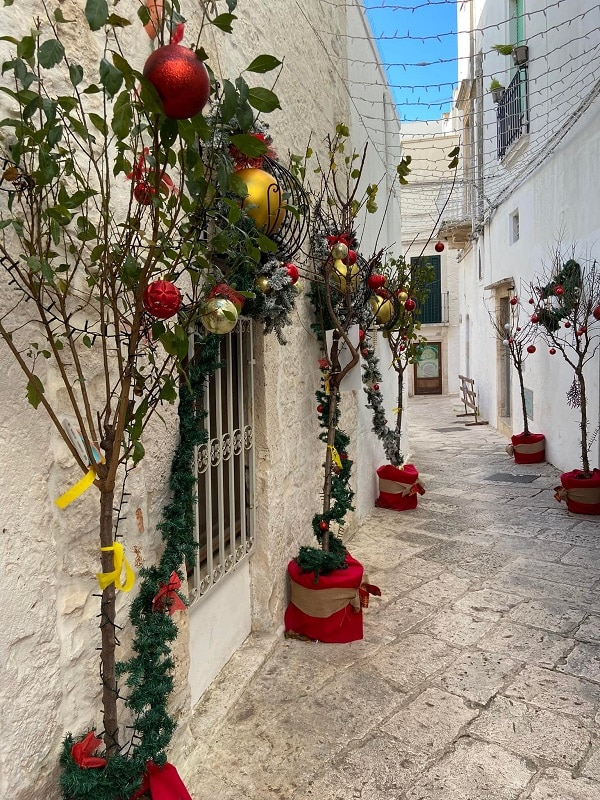 Is Italy your dream destination for living abroad? Get great advice on how to make your dream of moving to Italy come true.