French cuisine is world famous and many of its classic dishes are included in the repertoire of chefs in hotels and restaurants around the globe. Dining out in France is fun as there are restaurants for everyone from fine dining in elegant surroundings to cozy, cheerful bistros packed with locals with tables that spill out onto the pavement during good weather.
Traditionally the French eat their main meal of the day at lunchtime and take a two-hour break from work between 12 pm and 2 pm. Many restaurants offer a special lunchtime set menu which is amazingly good value.
The menu is usually written on a blackboard and is called a variety of names including Formule or Menu Midi. It comprises of three courses and it often includes a carafe of local wine. The price for this gastronomic delight is usually between $12 to $20. It is best to book a table though, as not surprisingly, restaurants offering this are extremely popular.
Here are the top ten most famous French dishes best served in their country of origin: 
1. Soupe à l'Oignon (French Onion Soup)
This classic soup recipe first appeared in France during the 18th century. According to local folklore, King Louis XV was staying at his hunting lodge when he became really hungry. All he could find to eat were yellow onions, butter and Champagne. He cooked the sliced onions in the butter and added the Champagne and voila! The king had made the very first French onion soup!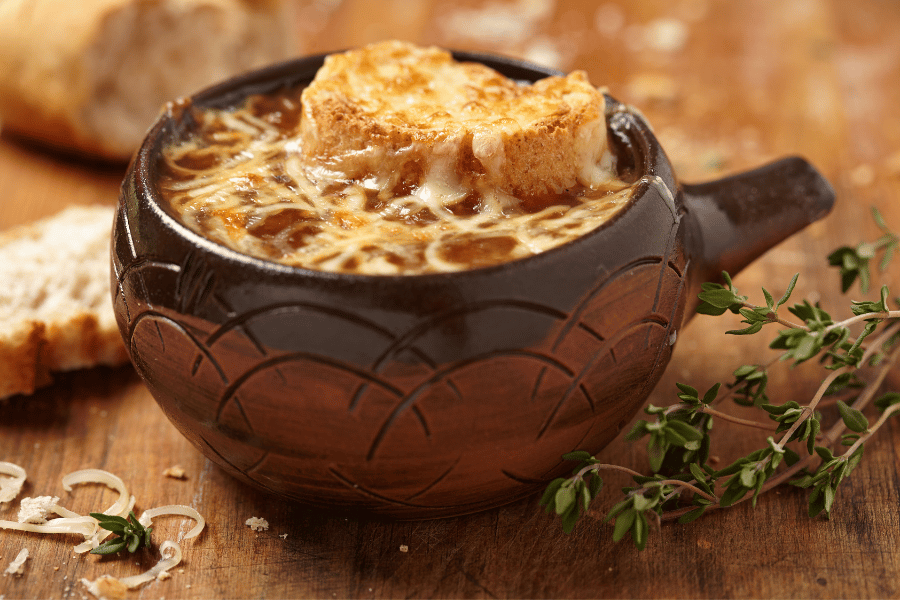 The modern version of the soup, that is considered by many as the national dish of France, is still made with caramelized yellow onions, plus with beef broth and white wine. The soup is flavored with bay leaves and thyme and is served  topped with slices of French baguette topped with melted Gruyère cheese and sprinkled with parsley.
2. Bouillabaisse
Bouillabaisse is a delicious fish stew that has its roots firmly in the port of Marseilles, where the recipe was created by the fishermen as a clever way to use up all the leftover fish from their day's catch. The word 'Bouillabaisse' comes from the Provençal Occitan dialect and means 'to simmer'. The fish that the fishermen traditionally used for Bouillabaisse was rascasse – a bony rockfish that was almost impossible to sell.
The fish stew should include at least three different fish such as bream, mullet and hake –  plus shellfish such as prawns, mussels and sea urchin. A variety of vegetables including tomatoes, potatoes, onions and celery are used to make a tasty broth and the fish are added one by one.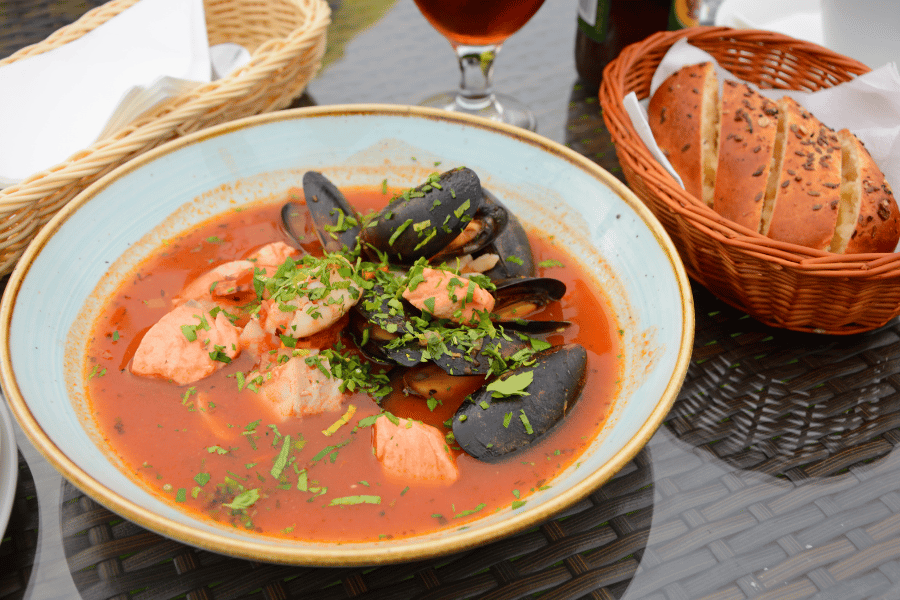 In Marseilles, the broth and fish are served in separate bowls. Bouillabaisse is traditionally served accompanied by arouille which is a sauce made with olive oil, saffron, garlic and cayenne pepper served on grilled slices of French bread.  In 1980, ten Marseilles chefs drew up the Bouillabaisse Charter to protect the heritage of this dish in French cuisine and define the ingredients that should be used, including the bony rascasse.
3. Quiche Lorraine
Another classic in French food is Quiche Lorraine. This is a savory tart made with a pastry case that is filled with a classic mixture of eggs, cream and bacon. The recipe originates from the Alsace Lorraine region and dates from the 16th century. Every village soon had variations of the recipe. The Quiche was originally prepared with a case made from a layer of dough – not unlike a pizza base – but today is made with either shortcrust or puff pastry.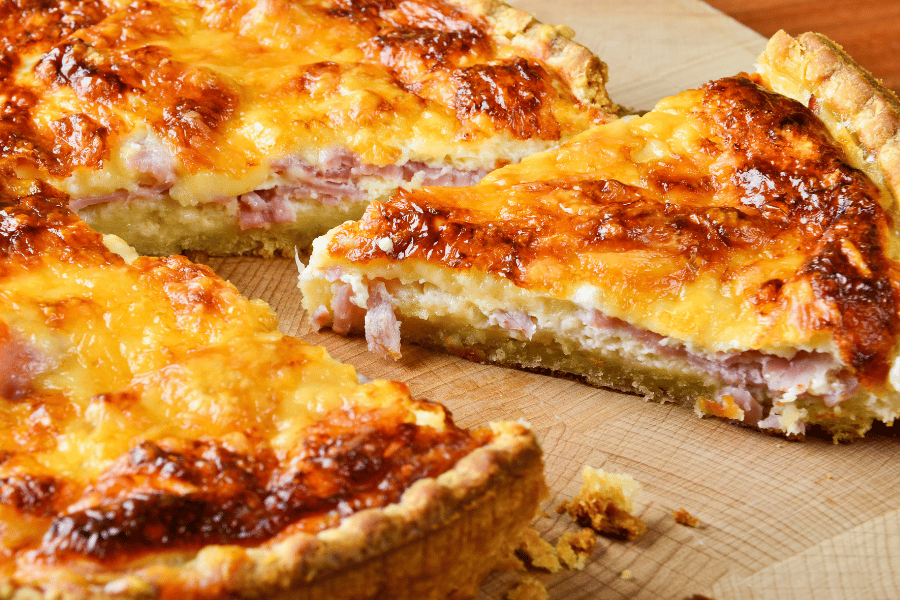 It was not until the 1950s that the recipe spread to Paris and the other large French cities and then abroad. The traditional recipe was adjusted and either Emmental or Parmesan cheese was added or crème frais. Today, ready-made Quiche is sold in both British and American supermarkets in a variety of flavors.  Quiche Lorraine is very versatile as it can be served either warm or cold.
4. Soufflé
This signature French dish comes from the verb 'souffler' which means 'to blow' . This is famous French food at its best!  Soufflé is made with beaten egg whites. When these are baked in the oven, the air inside the egg whites expands and the mixture becomes incredibly light and fluffy.
The dish first appeared in France in the early 18h century when it was created as a clever way to use up leftovers. Soufflés often contain other ingredients to flavor and these can be either herbs, cheese or vegetables for savory flavors and chocolate, banana and other fruits for sweet soufflés.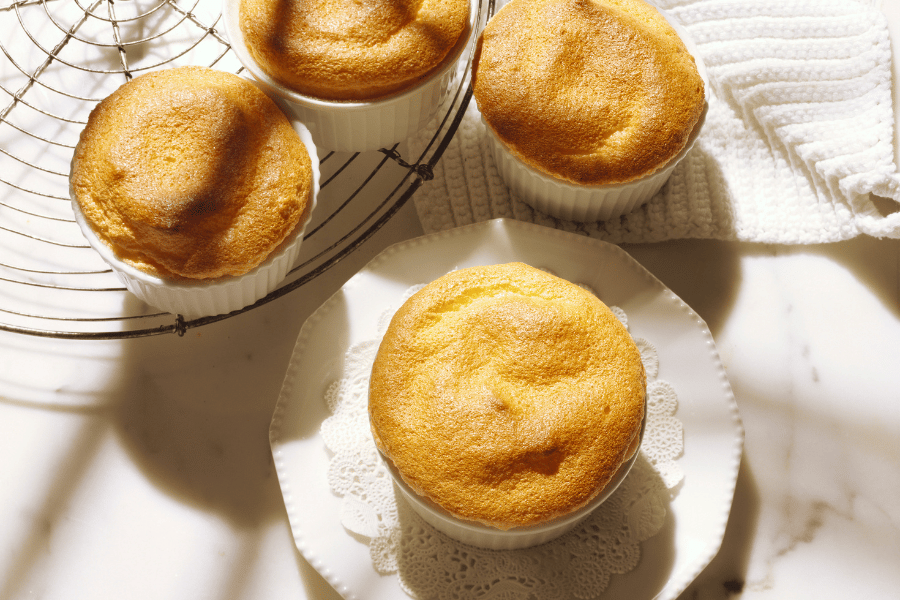 A good soufflé should taste crisp on the outside and soft and fluffy on the inside. After it is removed from the oven, it will gently collapse after a while. There are a number of  recipes that include gelatin, so that the soufflé can be served cold in perfect condition.
5. Rustic Cassoulet
Cassoulet is one of the typical foods from France that comes from the Languedoc region in the southwest of the country. The dish takes its name from the 'cassole ' dish that it is cooked in. This dish is a large earthenware pot hat is left to simmer gently for many hours.
This popular rustic dish is made with white haricot beans cooked with pork, confit (duck) and sausages and is said to have first appeared in Castelnaudary during the Hundred Years War (1337-1453). Legend tells how villagers would amass all their scraps of meat and stretch them to feed more people by the adding plenty of white beans to the pot.
Traditionally, Cassoulet should be cooked overnight, allowed to cool and then cooked again.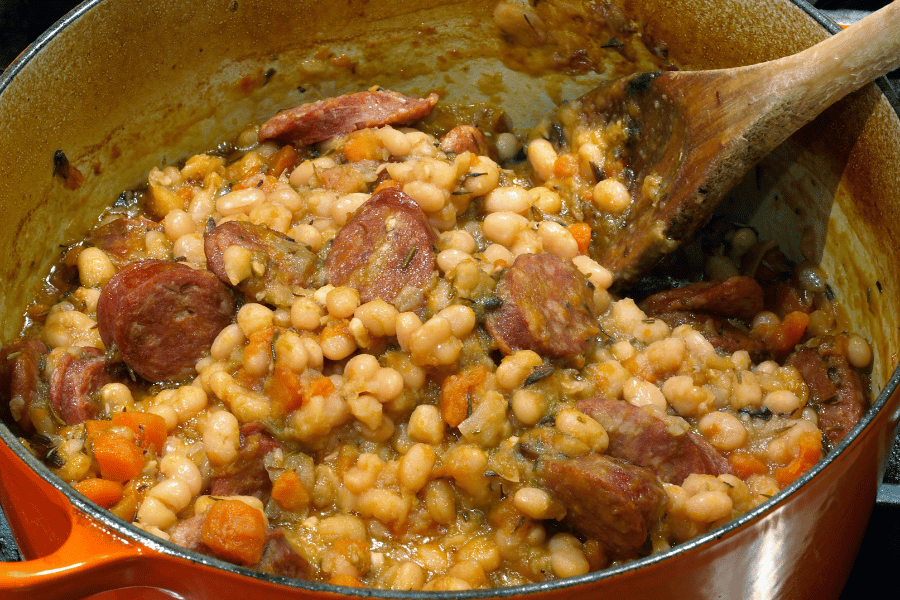 Legend also says that the French soldiers felt so strong after they had eaten plenty of Cassoulet that they chased the English back to the English Channel. This delicious dish is one of the original 'one pot meals' and should be served straight from the pot with plenty of slices of baguette and some full-bodied red wine.
6. Boeuf Bourguignon
Like many famous French dishes, the recipe  for Boeuf Bourguignon was invented during the Middle Ages as an ideal way to make tough pieces of beef more edible. The dish originates from the Burgundy region, well known for its excellent red wines and the beef is slowly cooked in red wine with shallots, mushrooms, chopped carrots, celery and garlic.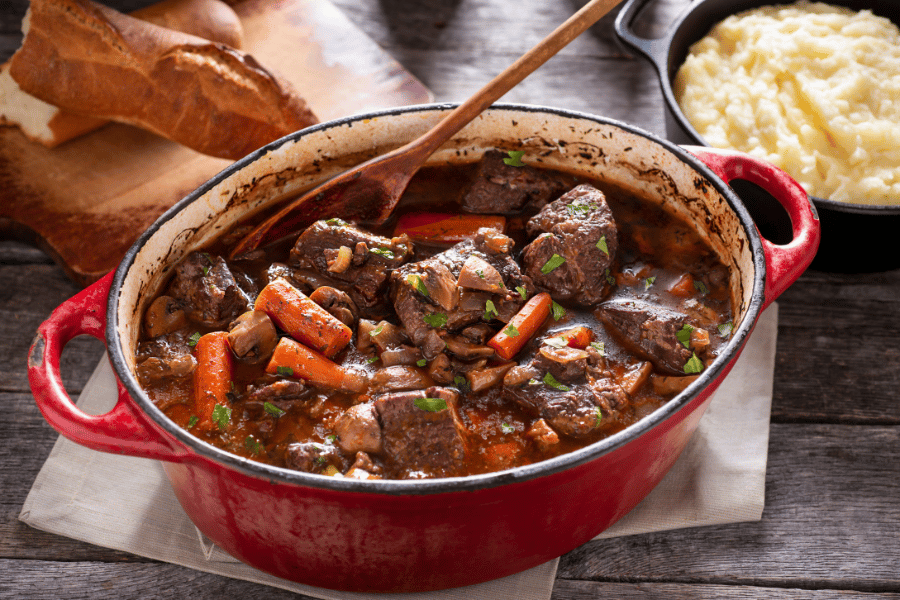 Boeuf Bourguignon did not get international attention until it appeared in a cook book written by French chef and restaurant owner Auguste Escoffier, that was published in 1903.
The best beef to use for this recipe is beef that has plenty of fatty marbling as this helps prevent the meat from drying out. The dish should be served with mashed potatoes, pureed carrot and green vegetables plus a fine glass of Burgundy of course!
7. Coq au Vin
This delicious casserole is definitely one of the typical foods from France, which taste so good with the addition of local herbs. It has long  been a good way to cook an old rooster! The recipe can be traced from Roman times.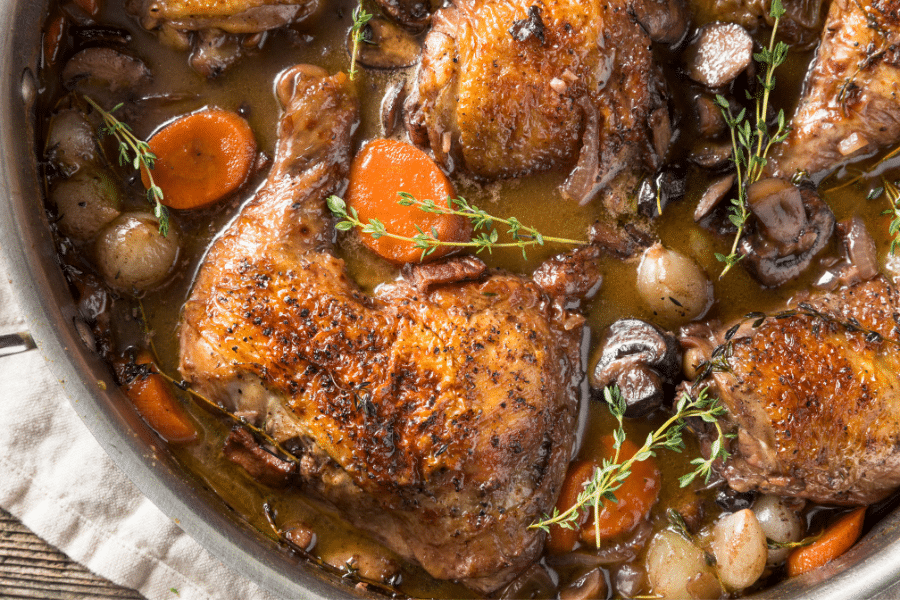 The meat is placed in a large casserole with shallots, mushrooms, carrots , finely chopped garlic and  plenty of hearty red wine and a measure of French cognac.  The casserole is cooked for several hours to develop the flavor which is enhanced with bay, rosemary and thyme.
When the meat is tender, the casserole is ready to serve, with creamy mashed potato and French beans. Modern variations of this dish are made with chicken thighs and legs.
8. Ratatouille
Ratatouille is a popular dish worldwide that has its origins in Provence in the South of France. The dish gets its name from two French words – 'rata' meaning 'casserole' and  the verb 'touiller' meaning 'to stir'.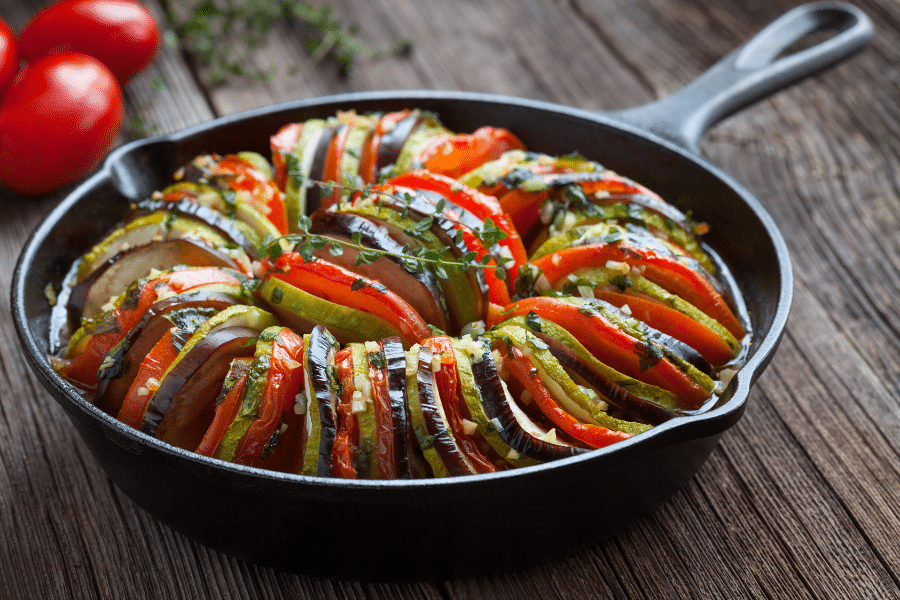 Ratatouille is made by gently simmering sliced eggplant, tomatoes, onions, bell peppers and zucchini in olive oil and flavoring the dish with garlic and herbs. Ratatouille is very versatile as it can be eaten either hot or cold and as a main dish or side.
9. Tarte Tatin
Tarte Tatin is a delicious upside down fruit tart containing caramelized apples. It is considered one of the best French foods and was given its name by the sisters who invented the recipe. Tarte Tatin (pronounced tar tah-tan with the emphasis on the final syllable) was created by Caroline and Stephanie Tatin who ran a restaurant in the village of  Lamotte-Beuvron in the Loire Valley in the late 19th century.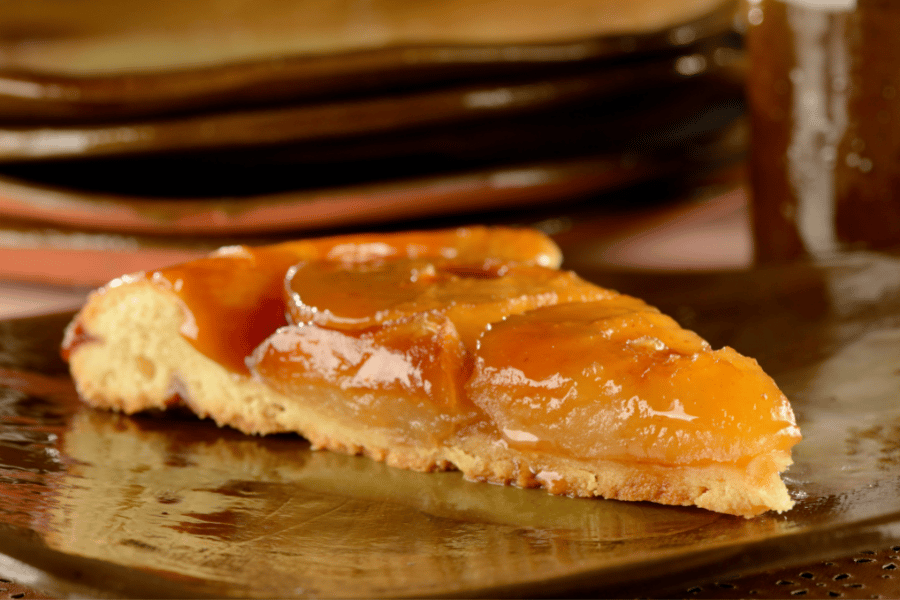 The story goes that one Sunday during the hunting season, the restaurant was particularly busy and Stephanie who did all the cooking got into a panic and placed the apple tart she had made into the oven upside down! When the tart had cooked she did not know what on earth to do as she hadn't time to make another so she simply slid it onto a serving plate and served it warm and upside down. The tart proved an instant success! Some years later, Maxim's in Paris added Tarte Tatin to the menu and the rest is history.
10. Créme Brûlée
The name of this delicious dessert means 'burned cream'  and it first appeared in the recipe book  'Cuisinier royal et bourgeois ' written by François Massialot in 1691. Many believe that the recipe was his version of a traditional dessert made in the Catalana region of northern Spain, which lies close to country's border with France. The Spanish dish was first mentioned in the 14th century. Other chefs believe that the recipe for Crème Brûlée has its roots in a similar English recipe that was known as Crême à l'Angloise.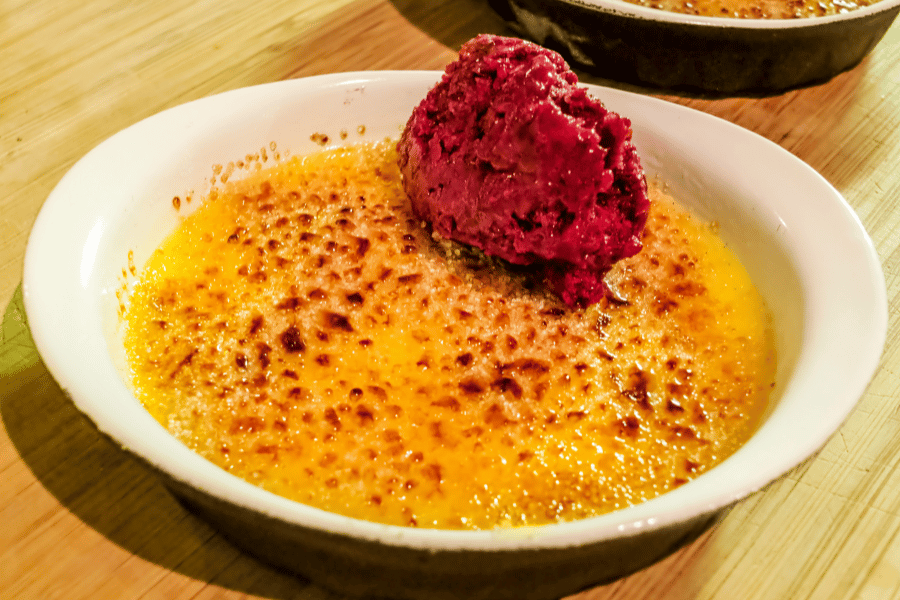 Crème brûlée was not a particularly popular French dessert until the 1980s when it started to appear regularly on Parisian menus. The dish is usually made in individual ramekin dishes. It is a smooth custard made with egg yolks, cream and vanilla which is topped with demerara sugar, which is caramelized with a culinary blowtorch, to create a crisp top layer that gives the dessert a truly decadent taste.
Enjoying famous French food in a local restaurant frequented by local people really is the best way to enjoy the typical foods from France. The specially-priced lunchtime menus also make trying excellent French cuisine really affordable too. You are not required to tip waiters or waitresses in French restaurants either, as a 15% service fee is included in the price of each item in all cafés, restaurants, bars, etc. Having said that, it is common practice to round up the money you pay to give the staff 20-30 cents if you bought a drink or a few euros if you have enjoyed a good meal.
Craving the French life? Start planning your life abroad with more great insights on moving to and living in France.