France is a beautiful country to live in, renowned for its stylish cities, charming countryside, picturesque vineyards, and mouth-watering food. It's a place of rich history, art, architecture, and culture and has much to offer expats who choose to live there. In fact, 78% of expats living in France are generally satisfied with their life abroad, as few countries in Europe can brag about offering such diversity of nature, culture, and lifestyle as France.
However, no country is perfect and each has advantages and disadvantages, qualities and downsides, regulations and peculiarities. To help you get started on your journey to living in France, we've put together this practical guide outlining the fundamental information you need to know before deciding if moving to France is something you want to pursue.
How to get residency in France
Obtaining residency and citizenship in France is a straightforward process. If you are moving to France as a retired person from a non-EU country, you will need to apply for a visa first. You will be required to show you have sufficient income, accommodation and healthcare insurance.
If you are a foreigner from a non-EU country, you will also be required to apply for a residency card. Once you have received your visa and while it is still valid, you should apply for a 'carte de séjour temporaire visiteur', a temporary visitor card (residency card).
Get the full details about obtaining a visa, residency and citizenship in France. 
The best places to live in France for expats
France is a large country with so many different areas that are all charming, so it can be difficult to know where to settle. There are some parts of France that are particularly popular with foreign residents. Below are the top six best places to live in France. The list is completed by other wonderful cities such as Lyon and Toulouse, the Normandy region, Alsace Lorraine, the coastal town of Biarritz and Luberon, which stands amidst beautiful countryside and is less than two hours from the ski resort of Mont Ventoux.
Before deciding on a place to live, it is a good idea to rent a property for six months or so in the area of your choice. This it will give you the opportunity to really understand what living there will be like before you invest money in a property.
1. Paris
Known as the city of lights, Paris is one of the most popular capitals in the world, known for its rich culture, excellent restaurants, good shopping and great nightlife. Many foreigners are drawn to living in the capital as there is always a colorful and cosmopolitan buzz and a packed list of events. The downside is that everything is more expensive in Paris, but on the other hand getting a job can be easier too.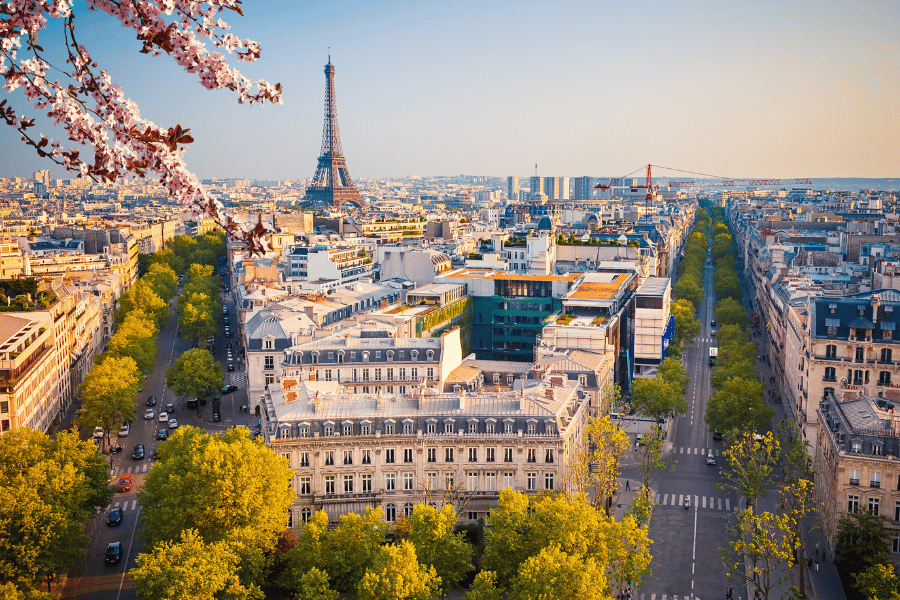 2. Nice
Nice is the country's fifth largest city and is situated on its south coast overlooking the beautiful azure waters of the Mediterranean. Nice has a gorgeous climate and it was for this reason that it developed more than 100 years ago as a winter bolt-hole for people living in Northern Europe – especially Victorian Britain.
Today, Nice is cosmopolitan with a distinct Italian character as it lies not far from the border with Italy. The prices in Nice are not low as it is a popular place for tourists, but because of this fact, the city has job opportunities too. There is a large expat community in Nice and there are a number of social events and clubs. The main huge bonus is that Nice enjoys more than 320 days of sunshine each year.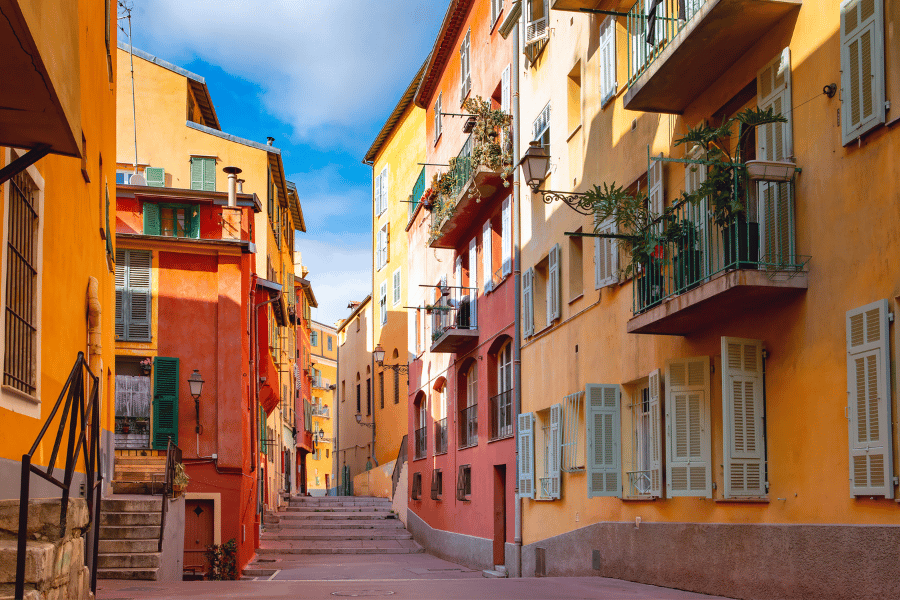 3. Provence
The region of Provence in south-east France is really attractive with lovely sandy beaches as well as spectacular geological features such as the Calanques de Cassis, the famous fingers of limestone with crystal clear waters. Some of the beaches such as Plage de Notre Dame are very isolated and only accessible by hiking which is a plus in the summer months when the area gets busy with tourists. The region has plenty of history, culture and regional dishes and offers great hiking routes too with lovely views. Property prices are typically higher in this area.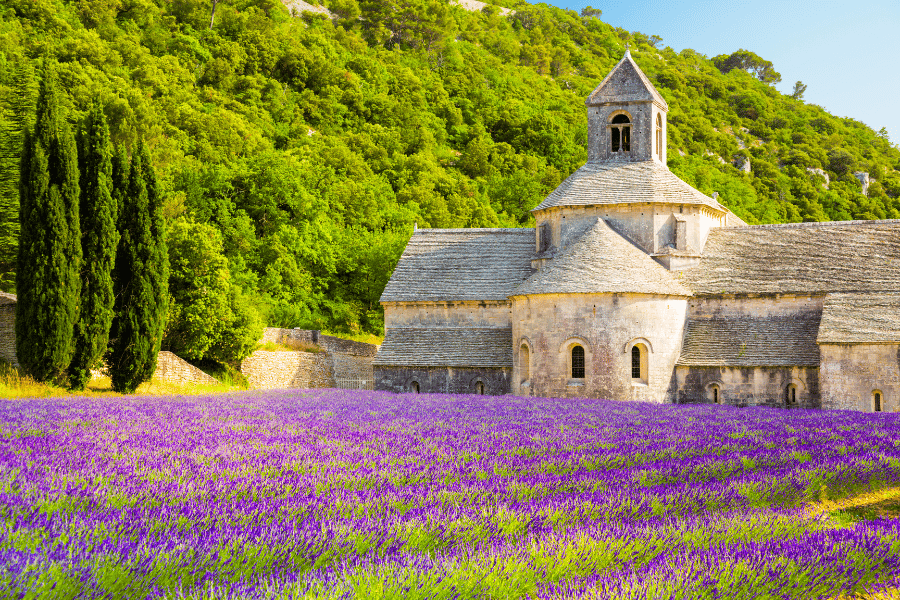 4. Brittany
Situated in the northwest of the country, Brittany is a popular place with foreigners because it has more than 700 miles of beautiful coastline and it is one of the cheapest parts of France. House and food prices are really good and many expats enjoy the challenge of renovating an older property that they have picked up for a bargain. For those who want easy access to the UK, there are ferries and the Channel Tunnel within easy reach. The weather in this part of France is cooler than in other areas.
5. Montpellier
This delightful university town is situated on the south coast of France within easy reach of the sea and good beaches – yet it remains amazingly unknown to tourists. Montpellier is a popular choice with families as it has a number of bilingual schools and colleges. There are many other activities for families to enjoy there, including museums, galleries, play parks and its famous botanical gardens. Montpellier offers a warm, safe environment for families and has a tram system for getting around easily.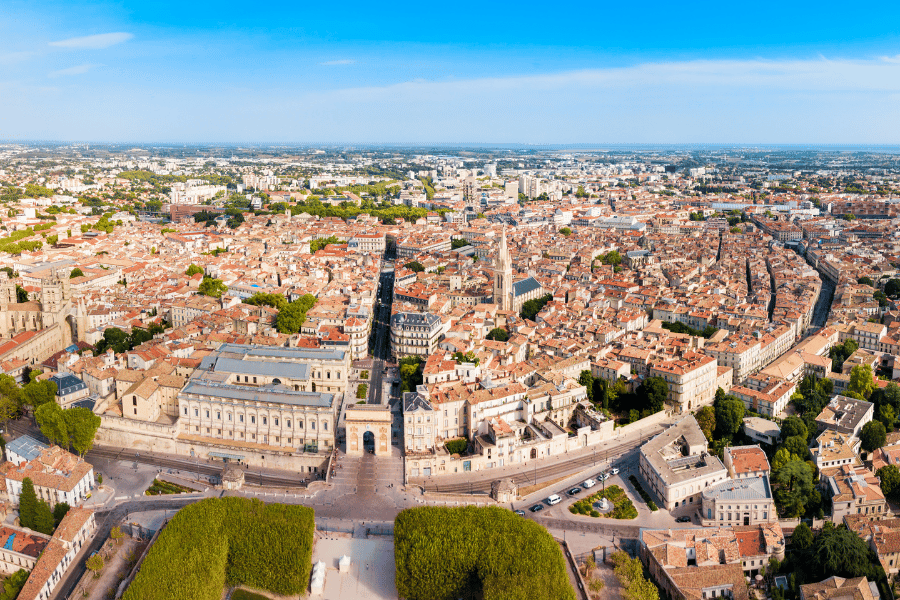 6. The Dordogne
This particularly pretty part of central France has the nickname 'Dordogneshire' because it is such a popular place with British expats – 60% of the area's population is non-French! If you are seeking an abundance of English speakers and plenty of expat clubs and associations, this area makes a good choice. The Dordogne has a wide selection of properties for sale and rent to suit all budgets. Ten of the prettiest villages in France are situated in the Dordogne and it is stunningly beautiful. There is plenty to do in the area and much history to discover – without the real need to speak much French! Among the popular outdoor activities are canoeing, cycling, golfing, horse riding and swimming. Bordeaux and its international airport and rich cultural life lies just 90 minutes away.
Check out the complete list of best places to live in France as an English-speaking expat. 
FAQ: How many expats are living in France?
The latest records available were compiled in 2018, when there were 6.5 million non-French living in France, 9.7% of the country's 67 million residents. 176,500 residents of these residents were British. The US embassy in Paris states that currently, more than 150,000 Americans are living in France as it is a popular destination on both a temporary and permanent basis.
Healthcare in France for expats
The healthcare system in France is one of the best in Europe and waiting times for doctors' appointments and most surgical procedures are short. Good healthcare is available to everyone.
Under the post-Brexit arrangements, UK state pensioners may use the S1 form. The S1 form can be used for healthcare cover by UK state pensioners as there is a reciprocal arrangement between the French healthcare service and British Department of Health.
If you do need to medical treatment in France before being registered in the French healthcare system, you should complete a Provisional Replacement Certificate (PRC) which is linked to the S1. A PRC can be obtained via email from the Overseas Healthcare Service.
FAQ: What do you need to register with the French healthcare system?
To register in the French healthcare service you must apply for a Carte Vitale which is a credit-card sized health card that gives the holder access to doctors, health specialists, prescriptions and dental care. With the Carte Vitale, you will be required to pay for doctors' appointments and prescriptions at the time, but with a Carte Vitale, up to 70% of the cost will be quickly reimbursed into your bank account.
You may download the application form from the Health Department website and submit it in person or by mail to our local primary health insurance fund (Caisse Primaire d'Assurance Maladie) along with the following documents:
Proof of residency
Birth certificate
Marriage certificate
Recent bank statement
Proof that you have been living in France for more than three months (utility bills, rent payments)
If employed, a recent payslip and work contract, if applicable
You need to apply for your Carte Vitale once you have been in France for three months and intend to stay in France for more than 183 days each year. Everyone aged over 16 years should carry a Carte Vitale in their wallet at all times.
Jobs in France
Depending on where you are living, there are a number of jobs available working in the tourist industry as guides, restaurant servers, and bar staff. For most jobs, good French is essential and with this, there are opportunities in-home care, real estate agencies, and remote clerical jobs. In agricultural and winemaking areas there are seasonal jobs in fruit picking, but these can be very tiring. There is always a demand for English-speaking nannies and for those who can teach English to foreign students.
FAQ: What is the average salary in France?
As of 2022, the minimum wage in France has been roughly $12 per hour. The wages for a 35-hour week equate to about $1,800 gross per month, minimum.
In 2022, the average monthly salary in France was approximately $2,500 net per month which equals $30,000 net per year. The average salary in France is higher than in many European countries and France has lower minimum working hours of 35 hours. Because the cost of living is higher in Paris, the wages in the capital city are on average 10% higher.
Find out what are the best jobs for English-speaking expats in France. 
Learning French
If you are planning to settle in France, you do need to be able to speak French. It is true that many French people in the cities speak good English, but overall, English proficiency is lower in France than most other European countries. If you want to make everyday living easy and to integrate into French society, you will really need to start learning French.
Further down the line, if you decide to apply for French citizenship, your level of French, including reading, writing and oral comprehension, will be put to the test.
FAQ: How can you learn the French language?
There are a number of online classes that you can join which have the advantage that they can be accessed whenever it is convenient for you. Since the Covid pandemic, there have been several classes that have developed on such platforms as zoom.
In many French towns there are Anglo French societies where people of all nationalities meet over coffee to learn each other's languages. These are great fun because participants learn so much about each other's culture too as well as interesting snippets of local information. Watching the television and listening to local radio works well too. A particularly good program on TF1 television is Journal de 13 Heures, which is broadcast on weekday afternoons and is a fun way to learn about French life and improve your vocabulary.
The most successful way to learn French is to speak it every day in the local shops and to get to know an elderly French person that you share a regular cup of coffee with and help them with any little tasks. Not only do you learn an amazing French vocabulary with the correct pronunciation, but you learn colloquial French too.
Culture in France
French culture is famous worldwide, but because it is such a large country, its culture varies from one region to another. Food is a great example of this because although each city has its gourmet restaurants serving classic French cuisine. In every area there are also really good local specialties to enjoy too, and many of these are seasonal.
Many towns in rural areas have large dinners each year to celebrate the start of the hunting season while others hold festivals to mark the end of a successful fruit harvest. A number of villages in the Lot et Garonne region and surrounding areas hold summer night markets where local producers cook a great range of dishes to be enjoyed by everyone.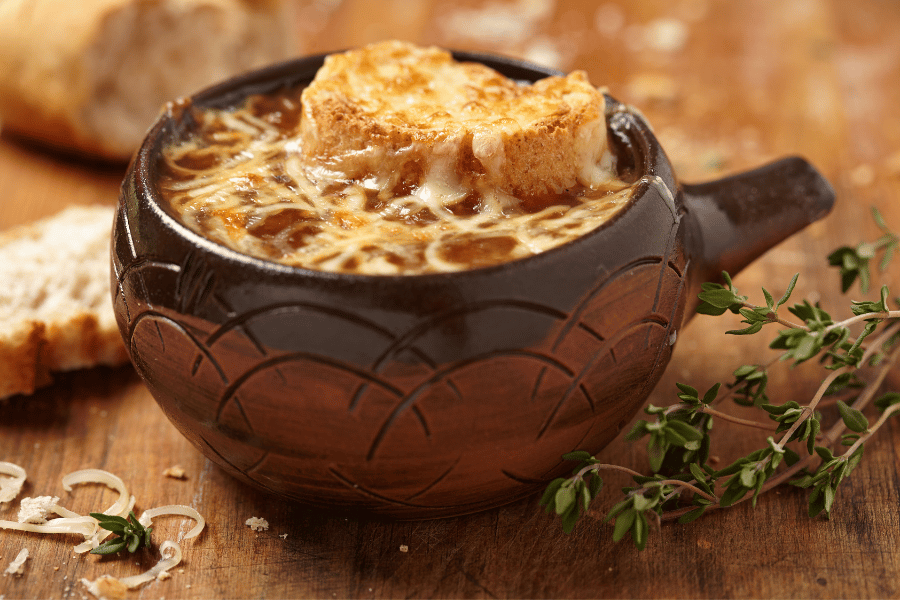 The cities and main towns are the focus for many of the big cultural events including international pop concerts, orchestral music, ballets and opera. Smaller coastal towns also organize regular musical events on the beach during the summer months. There are cinemas to be found in most towns and they do show films in English with French subtitles or ones that have been dubbed. In May, the world-famous film festival takes place in Cannes.
The French love their sports and there are numerous soccer matches for clubs of all sizes. 2023 is an important year for France as during February it is hosting the Ski World Championship in Méribel and Courcheval in the Alps and the Rugby World Cup during October – November in nine different French cities. The Tour de France starts in Bilbao, Spain on July 1st and ends on Champs-Élysées in Paris on July 23rd.
Retiring to France
How much money do you need to live in France?
How much money you will need each month depends on where you are living in France, as rents vary tremendously. Food prices are higher than the UK and United States and fuel prices are slightly lower than the UK. Domestic heating can be expensive in rural areas as most houses have electric or oil heating systems. Fuel prices are slightly lower than in many European countries and the French Government is encouraging the purchase of hybrid and electric cars.
At present, a single person must show they can match the minimum monthly income of about $1,800 per month. A married couple does not have to demonstrate that they have double the monthly income, but sufficient to meet their needs.
The pros & cons of moving to France as an expat
There are good and bad points about moving to any foreign country and this is certainly true about France, although the positive points definitely outweigh the negative.
Pros of living in France
Friendly locals
English is spoken in the main cities
Good quality healthcare at affordable prices
Affordable properties, especially if you are prepared to renovate
Many beautiful places to explore and very varied terrain
Easy access to many other European countries
Excellent train service
Superb food and restaurants to suit every budget
Amazing boulangeries (bakeries) and patisseries (cake shops)
Excellent wines, cognacs and Armagnac
Cons of living in France
France bureaucracy is second to none, plenty of form-filling to be done
Cities like Paris are expensive, rentals and houses are pricey and in short supply
Shop opening times in rural areas can be tricky with shops closed both Sundays and Mondays
Good Internet and mobile signals can be hard to find in rural areas
It can be very difficult to get a job if you don't speak good French
Driving standards in many areas are poor
Driving at night in rural areas can be challenging as roads are unlit
France is always a great choice for expats
France is a fun place to live as there are so many different places to explore, different sports to tempt you all year round and secluded beaches to simply stretch out, and colorful markets for fruit, cheeses and more. There are two aspects of living in France that are more than challenging, the bureaucracy and the language, but both don't seem so tricky after a glass of excellent French wine.