The South of France is also known as 'the French Riviera' and referred to as "le Midi" by the French and is the most popular area in France. The area comprises of the country's Mediterranean coastline and its hinterland and stretches from France's border with Italy to its border with Spain.
The region has a mild climate and boasts more than 300 days of sunshine. Those living in the South of France cities enjoy a wonderful blend of fresh produce, ancient sites, rich culture, upscale shopping and fine dining.
For more than 100 years, places in the South of France have attracted expats as they offer a completely different – and very relaxing – lifestyle. With more than 60 miles of coastline, this part of France also attracts millions of tourists each year.
The South of France comprises of two regions. Provence-Alpes-Côte d'Azur (affectionately known as 'PACA') to the east of the river Rhone, and Languedoc Roussillon which is situated to the west of the Rhone.
The South of France is a fun place to live as it conjures up memories of 1950s glamour and there is plenty to see and do all year round including exploring the beauty of the coastline, the Calanques and the lavender fields of Provence. Each of the popular cities and towns has something special to offer those planning to make it home.
Here are our favorite best cities in the South of France to live in and why:
1. Antibes
Nestling on the coastline between Cannes and Nice is Antibes – one of the best towns in the South of France. Antibes is a colorful town with a mixture of different nationalities of all ages.  It is full of history as it was  founded by the Greeks and has 16th century ramparts to climb for great views. It was much-loved by Picasso who spent time at Château Grimaldi and gave many of his works to the museum, while novelist Graham Greene always spent his winters in Antibes.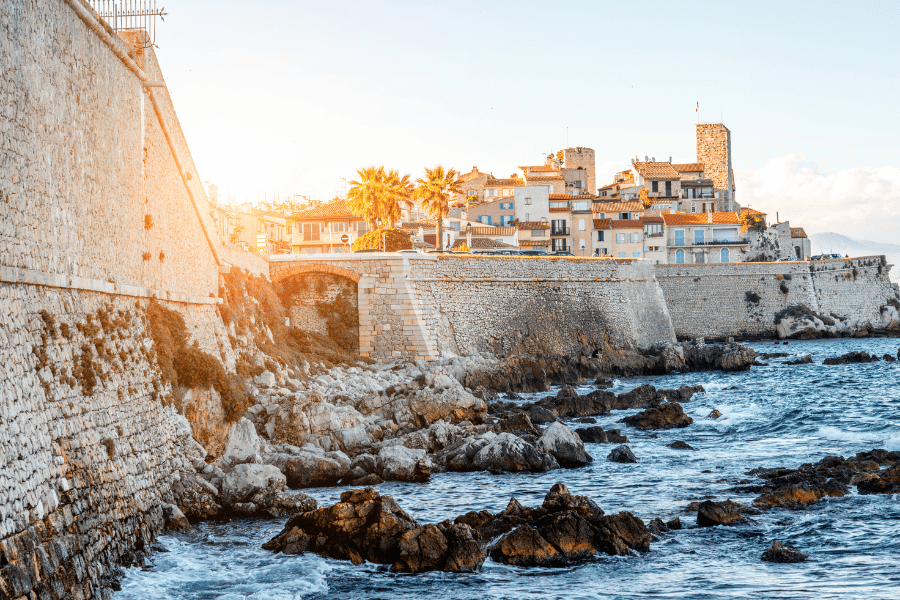 Living in Antibes France
Antibes is divided into three main areas: the Old Town, Juan-les-Pins and Cap d'Antibes. The Old Town is dominated by the ramparts and is a maze of narrow streets, shops and restaurants with bars that regularly have live music. Close to the Old Town is Vauban, a large marina that is popular with yachts. This is the most affordable part of town for housing with attractive studios, apartments and town houses.
Juan-Les-Pins is the town's  coastal area, popular for its shopping and beaches. The peninsula of Cap d'Antibes, has beautiful coves and the Phare de la Garoupe – a lighthouse surrounded by villas – on its tip. Antibes has numerous parks and gardens plus good walking routes.
Jazz à Juan is Europe's oldest jazz festival which is held in Antibes each July. Nice Airport lies nine miles east and there is a regular bus service. Both Antibes and Juan-Les-Pins have SNCF railway stations with trains connecting to all major cities.
2. Cannes
Cannes has been linked with films for more than 70 years and today it is one of the most famous South of France cities and the second largest. Cannes has a rich 400 year history. The narrow streets of the Old Town lead down the hillside to the Old Port where it is fun to hop on the ferry to Iles de Lérins with their untouched sandy beaches and a variety of historical sites.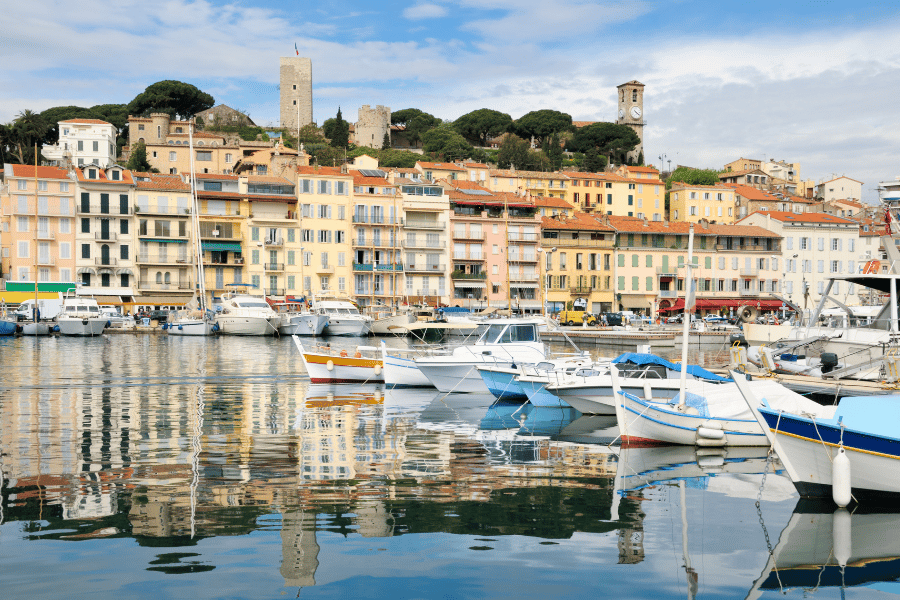 Living in Cannes, France
During the winter months, Cannes is quiet and tranquil but in the spring, the first of the big events takes place – the Red Bull Air Race. May is the month for the world famous Cannes Film Festival which attracts scores of celebrities who like to walk along the palm-tree lined Boulevard de la Croisette to Porto Pierre. For those who love action, there is Formula One in Monaco at the end of May and the principality lies just 45 minutes east of Cannes.
Cannes is without a doubt one of the best cities in South of France. The center of the city is primarily for short-term and holiday rentals and La Croix des Gardes, Palm Beach and Californie are the main residential areas and these are situated on the fringes of the city.
With the sea so close by, most residents enjoy water sports including underwater photography as well as walking. Inland there are good hiking routes and pretty medieval villages to explore.  Cannes has several museums to visit, very chic boutiques. There are  easy links to Nice Airport, just 16 miles away, a SNCF railway station with services to all major towns and the hop on, hop off City Palm minibus which follows a circular route around the city.
3. Grasse
Choosing a place to live in the town of Grasse is perfect if you prefer a slower pace of life. Grasse is one of the best towns in South of France as it sits between the coast and the mountains with stunning views over the Bay of Cannes.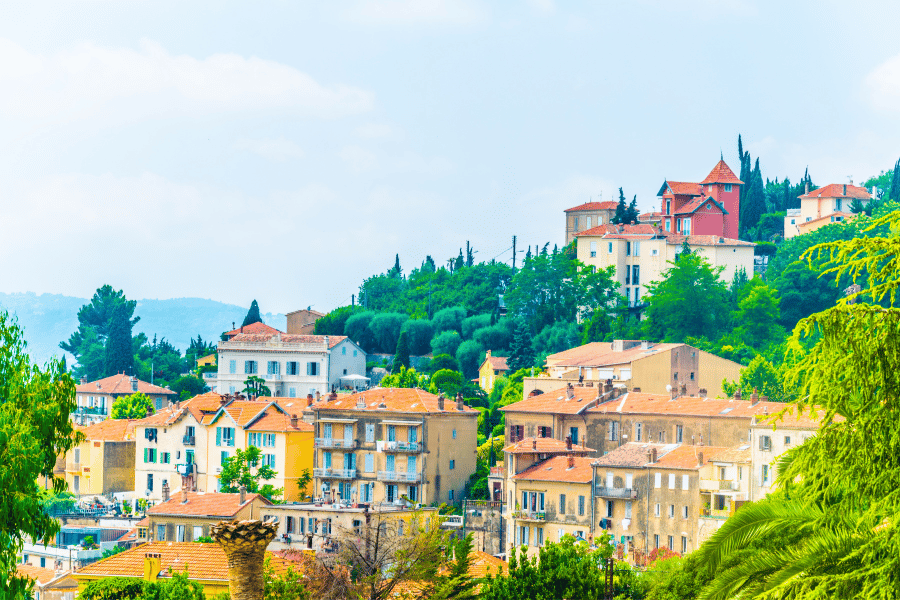 Living in Grasse, France
Grasse is known as the 'The World Capital of Perfume'. The town center is traditionally Provençal in character with old buildings, cobbled streets and pretty squares. There are perfume shops, museums and workshops and as you walk through the streets you will smell jasmine, orange blossom and roses.
During the year, there are several events linked with flowers including the Jasmine Festival and ExpoRose. There are Open Days at the oil mills as well the Grasse Tennis Open and popular Truffle Markets in November.  In the Old Town there are some lovely older properties in need of renovation that can be bought for extremely good prices.
4. Marseilles
When we think of the best places to live in the South of France, we can't live out Marseille. There are so many opportunities to enjoy in Marseilles which is the country's oldest city.  Marseilles has a huge port and enjoys a mild and pleasant climate.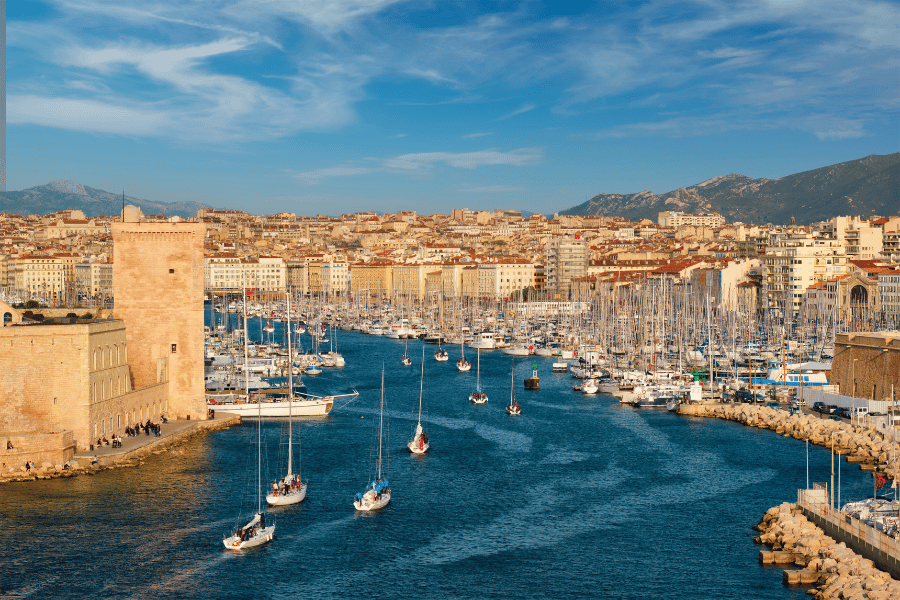 Living in Marseille, France
Marseille is home to many nationalities. There are a number of different neighborhoods in the city with affordable housing and most people walk or hop on a bus to move around one of the best places in South of France. There are museums and exhibitions to visit and plenty of green spaces including several cycle parks and it is easy to find a reasonably priced restaurant serving popular regional dishes.
Interestingly, in Marseilles, smoking is actively discouraged. Locals will tell you that the cost of living is 30% cheaper in Marseilles than in Paris. Marseilles offers easy travel too as it has an International Airport which has many overseas flight options.
5. Menton
The town of Menton is lesser known to foreigners, but has been popular since the British aristocracy first 'discovered' it in Victorian times. In those days, Menton was a pretty fishing village situated on a semi-circular bay – the last village before the Principality of Monaco and the Italian border. The British developed it into a chic health resort and it has remained up-market ever since.
Living in Menton, France
Today Menton is one of the best places in the South of France if you are seeking peace and tranquility and it is a favorite spot with artists. The residents flip between French and Italian in conversation and regularly cross the border for lunch. Menton enjoys a micro-climate which gives it the best climate in the entire French Riviera.
Menton is one of the best towns in the South of France and this is reflected in its property prices. There are places to visit including climbing the steps opposite Plage des Sablettes up to the Basilica. The steps are steep, but the views are brilliant.
The Basilica Saint Michel – Archange has some amazing ceiling and wall frescoes. Lemons are the symbol of Menton and the Lemon Festival is held every February and March and music is enjoyed during the annual classical music festival. There are walks to enjoy in the rolling countryside and a number of water and other outdoor sports.
6. Montpellier
This vibrant city is lesser known than others, but is a fun place to live as it is small in size, making most places easy to reach on foot and it boasts the largest pedestrian area in a European city. The city has a rich history as it was the hub of the Mediterranean during the Middle Ages and its famous university is one of the oldest in the world. It also has the Jardin des Plantes – one of Europe's oldest botanical gardens.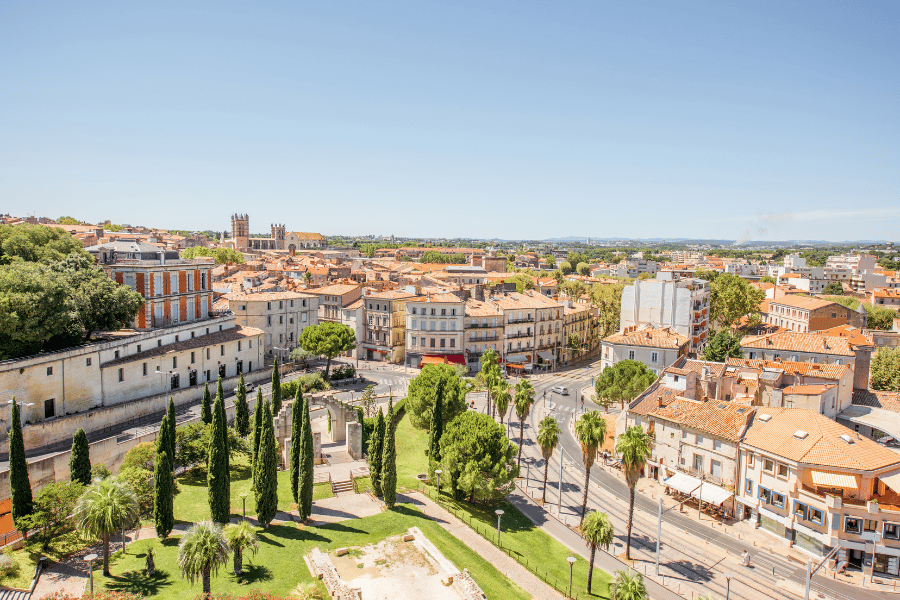 Living in Montpellier, France
Montpellier is considered by the French to offer one of the highest standards of living in France. Because the city has a large student population it has a lively café culture, reasonably priced restaurants and always something going on. During the summer months, the cafés and restaurants spill out onto the pavements which adds to its character.
Montpellier stands in rolling countryside about six miles from the coast which has many lovely beaches – including Plage de L'Espiguette, which is 11 miles of sand and dunes. There are several markets in the city for purchasing excellent fresh produce and if you don't feel like cooking, the city also has several Michelin-starred restaurants.
Montpellier is home to two large concert venues: L'Arena and Le Zenith Sud. There is the annual summer opera festival that hosts more than 150 events and Cinemed, the autumn cinema festival. Montpellier offers excellent culture and good weather but does not get as touristy as some other South of France cities and towns.
7. Nice
Nice is the most famous of the South of France cities. It stands overlooking the Mediterranean on the Cote d'Azur (meaning Blue Coast). Nice is very cosmopolitan and enjoys an excellent climate that ensures that time can be spent outside in the sunshine all year. Summer temperatures average 26ºC (79F) and the winter they only drop as low as 10ºC (50F).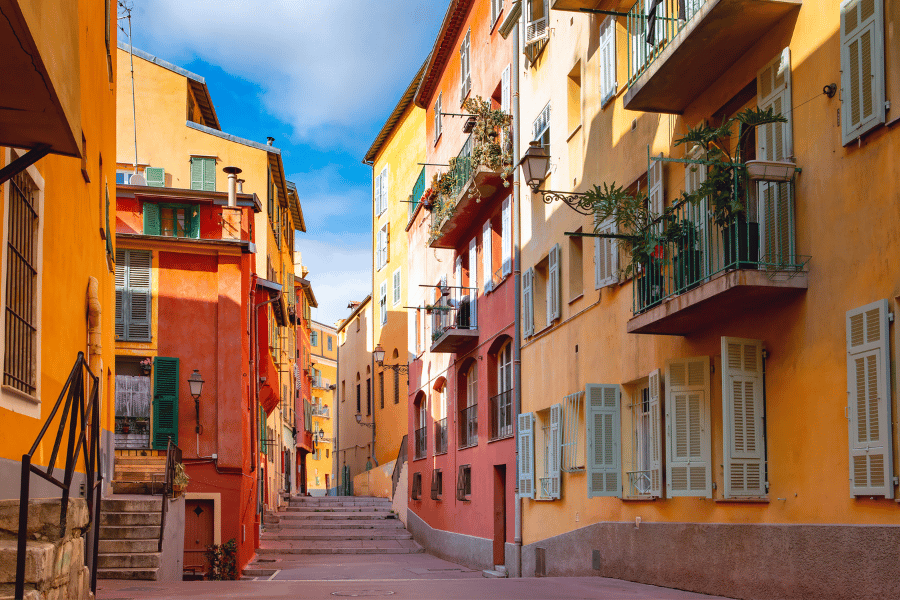 Living in Nice France
Walks along the famous Promenade D'Anglais (which stretches for four miles along the shore) are fun, as is a browse in the daily market in Cours Selaya. Wandering around the marina admiring the super yachts and enjoying a coffee is lovely too.  The Old Town is fascinating with narrow winding streets lined with shops and restaurants that lead up to Nice Cathedral, which is famous for its beautiful Baroque architecture.
Nice has its own international airport which is ideal if you enjoy travelling. The city is well located for trips into Italy as well as exploring the coast and the winter sports in the French Alps. There are direct ferries to Corsica, Bastia and Ile Rousse too.  Through the year there are carnivals and jazz festivals to enjoy as well as some great walks and cycling trails through the local vineyards.
8. Saint-Jean-Cap-Ferrat
Situated on a peninsula, a 25-minute drive east of Nice, Saint-Jean-Cap-Ferrat is a relatively tranquil spot with rocky beaches, clear azure water and green landscapes. It has been a favorite spot with the rich and famous since Victorian times. Even today the area is much-loved by actors, politicians and tech tycoons and is referred as the 'Peninsula of Billionaires'.  There is an abundance of large lavish villas and equally lavish yachts moored in its harbor.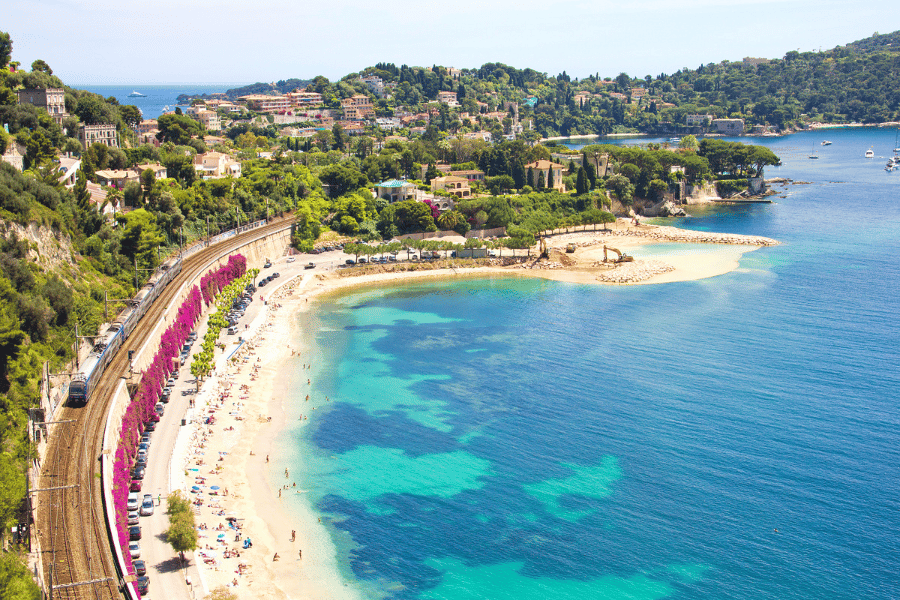 Living in Saint-Jean-Cap-Ferrat, France
Saint-Jean-Cap-Ferrat is home to only about 1,500 permanent residents. The area has several iconic hotels including Grand-Hôtel du Cap-Ferrat, which is now managed by the Four Seasons. The hotel was awarded 'palace' status in 2011. The area was once just a small fishing village and was discovered by rich expats staying in Nice who considered it one of the best places in South of France.
There are monuments and museums to visit as well as enjoying a walk to the famous lighthouse and Semaphore Tower, built by Napoleon III.  Nearby are the two springs created by COEXIST which promote religious tolerance. The popular Maurice Rouvier coastal walk links Saint-Jean-Cap-Ferrat to Beaulieu-sur-Mer.
9. Toulon
Situated on the French Riviera, Toulon is one of the country's top naval ports and is one of the quieter South of France cities – rarely visited by tourists. Toulon overlooks the Mediterranean and its best beaches are found in Le Mourillon neighborhood. The beach is fringed by cafes and restaurants as well as a series of grassy embankments where a variety of festivals are held during the summer months.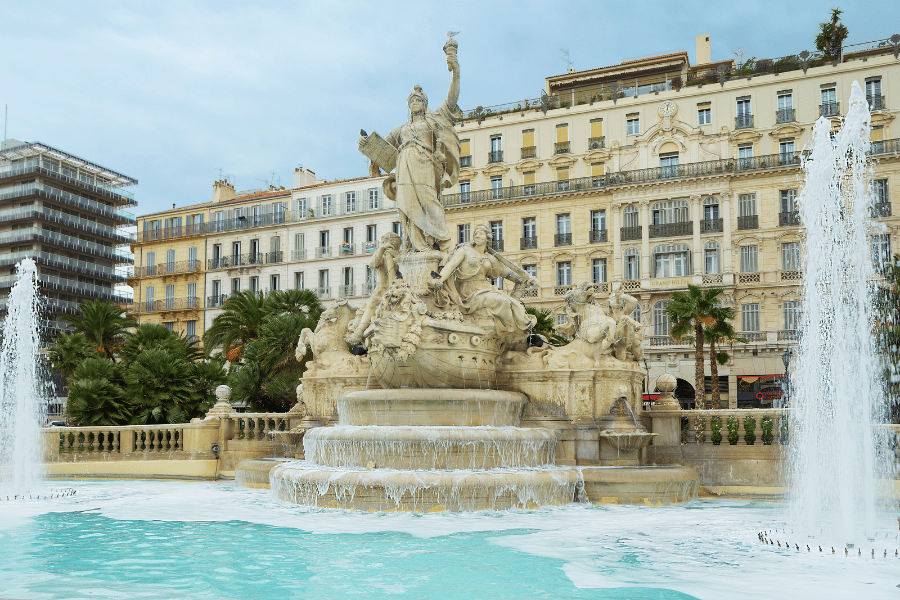 Living in Toulon, France
Toulon has a thriving cultural scene with an opera house, theatres and a comic venue. The new La Rue des Arts is home to art galleries and workshops where jewelry artisans and clothes makers can be watched as they work. A popular walking/cycling trail connects the historic center to the beaches of Le Mourillon and continues along the coast to Hyères and beyond.  Toulon has a small airport which offers internal flights, but Marseilles International Airport is 55 miles away.
10. Villefranche-sur-Mer
We saved the best for last. Many people who live in Villefranche-sur-Mer believe that it really is a 'little piece of heaven'. This pretty seaside town with its buildings painted in candy colors certainly offers a slower pace of life than the South of France cities. There are steep narrow streets with flights of steps that climb up the hillsides to the terraces of vines. It certainly has the character of the fishing village it once was.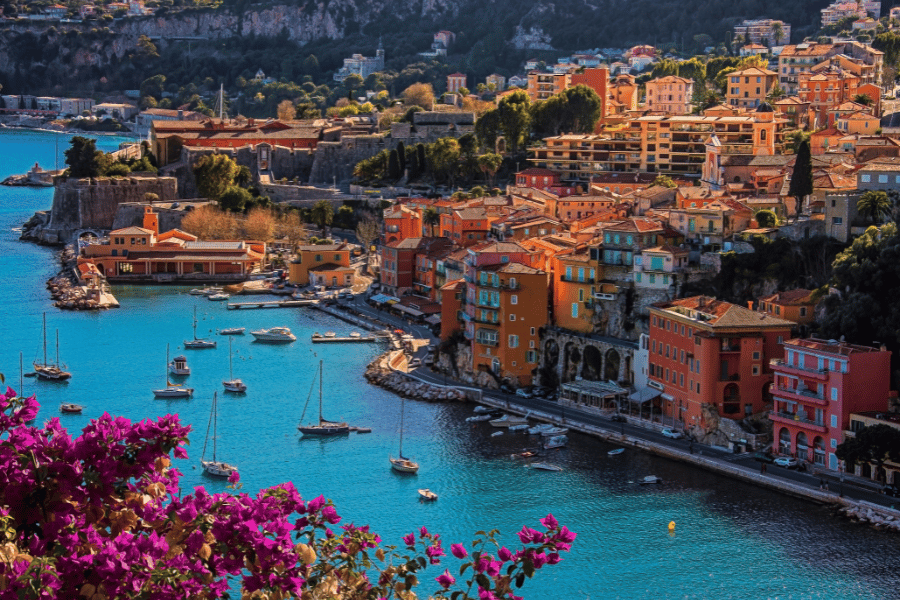 Living in Villefranche-sur-Mer, France
The February Fishing Festival is fun. There is a parade, music and colorful costumes and the fishermen decorate their boats and throw flowers at each other. The town was described by Jean Cocteau as "a source of myth and inspiration" while the Rolling Stones recorded their album Exile on Main St there. The town featured in the Bond movie  'Never Say Never Again' amongst a number of others.
When you feel like exploring further afield, Nice lies just two miles to the west and the principality of Monaco four miles to the east. Nice also has the country's third largest international airport.
There are of course so many wonderful coastal towns and cities in France to live in. If you decide that you would love to live in the South of France, it is well worth taking your time to explore the region as you will soon get a feel for the areas that will suit you best. One thing for sure is that you will suddenly become every popular as family and friends flock to visit you.
Take one more step towards your dream of moving abroad, with these fantastic articles about living in France.