The French coastline has more than 2,000 miles of sandy beaches, dramatic cliffs and rolling waves that are great for surfing. In many other places, the sea is calm, clear and azure in color. There are beaches that are large and sandy and others are small and secluded. There are numerous rocky bays too. One thing's for certain, if you're looking for places to live in France and being near the water is important, there are plenty of great French beach towns situated close to its beautiful coastline.
Living in France near the coast brings so many merits. Certainly looking out over the ocean is a great mood booster and helps reduce stress. The cleaner air and higher levels of vitamin D will help you to feel better and being by the sea definitely promotes a more active lifestyle.
Here are France's best coastal towns and cities you will truly enjoy: 
1. Ault
Close to the northern ports of Calais and Dieppe and overlooking the English Channel stands the delightful coastal town of Ault. There are pebbled beaches and snowy white cliffs and a relaxing ambiance in the town itself – probably as it is visited by few tourists. Ault is well worth a visit as it is an attractive coastal town in France as it stands in a beautiful location at the head of a green valley that is protected by the Bois de Cise, with the start of the cliffs of the Normandy Alabaster Coast, just a short distance away.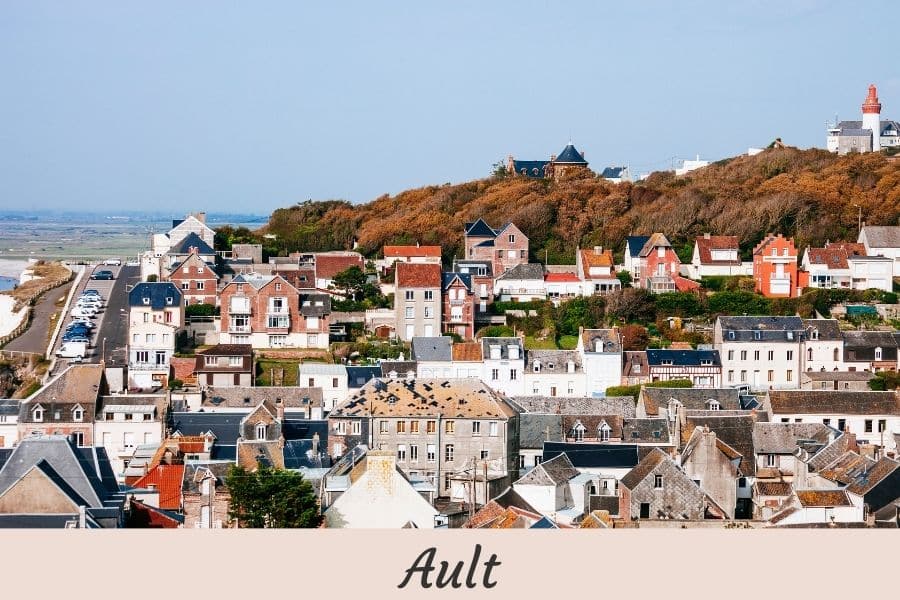 2. Étretat
If you are seeking a stunning coastal town France, Étretat in Normandy (just 20 km north of Le Havre) is certainly a great choice as it has a large sandy beach and dramatic white white stone cliffs. The cliffs stretch for four kilometers and have striking rock formations that have been carved out of the rock by the wind and rain. There are three natural sea arches including  Porte d'Aval arch and L'Aiguille (meaning 'the needle') is a 70 meter pillar rising up from the sea. To the north, the cliff side 19th century Chapelle Notre-Dame de la Garde is situated on the coastal path and offers dramatic views over the sea. The beach itself is huge with flat and rounded stones and the town itself has plenty of places to enjoy a traditional French crȇpe and cup of local cider.

3. Honfleur
Situated in northern France, this stylish coastal town in France dates from the 16th century when the Old Harbour was built on the spot where the river  Seine flows into the sea. The harbor at Honfleur was once a thriving one, but today is just used by local fishermen as the main commercial activity has been moved to Le Havre. The harbor is overlooked  by elegant old townhouses. The local beaches are pretty and lined with rock pools which are always popular with children and there are coastal botanical gardens to explore too. This area was also much loved by the painter Claude Monet too.

4. Trouville sur Mer
This delightful coastal town in France is perfect for those traveling across the English Channel from the U.K. as it is situated in the Calvados region – not far from the ferry port of Le Havre. Trouville sur Mer has a large sandy beach, that is rarely busy and there is a promenade that is lined with colorful gift shops. Close by there is the old fishing port that is still working and beautiful old villas nestle in the gently rolling hills that overlook this beautiful coastal town in France.
Trouville sur Mer is a great choice for those who want to visit this part of France to as it lies within close proximity of the Normandy beaches and it really is an attractive coastal town in France.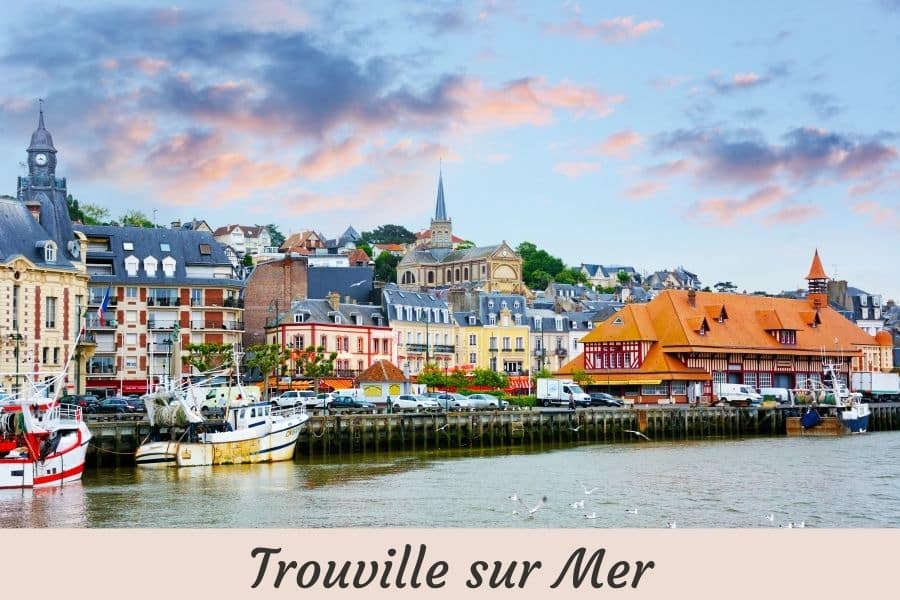 5. Brest
Brest is best known because it has been a French naval base for several centuries and stands on a huge natural harbor. For this reason, very few of the buildings in this beach town in France are pre- Second World War. Brest has always been connected to the sea and today is a world leader in ocean research. There is so much to discover in Brest that is linked to the sea including Océanopolis – a world-class aquarium – and the galleries of the Naval Museum, which can be found in the castle.
Brest appeals to beach lovers too as just a couple of kilometers further west is a really special spot called Pointe du Petit Minou. This is a pretty sandy cove with great rolling waves which are popular with surfers.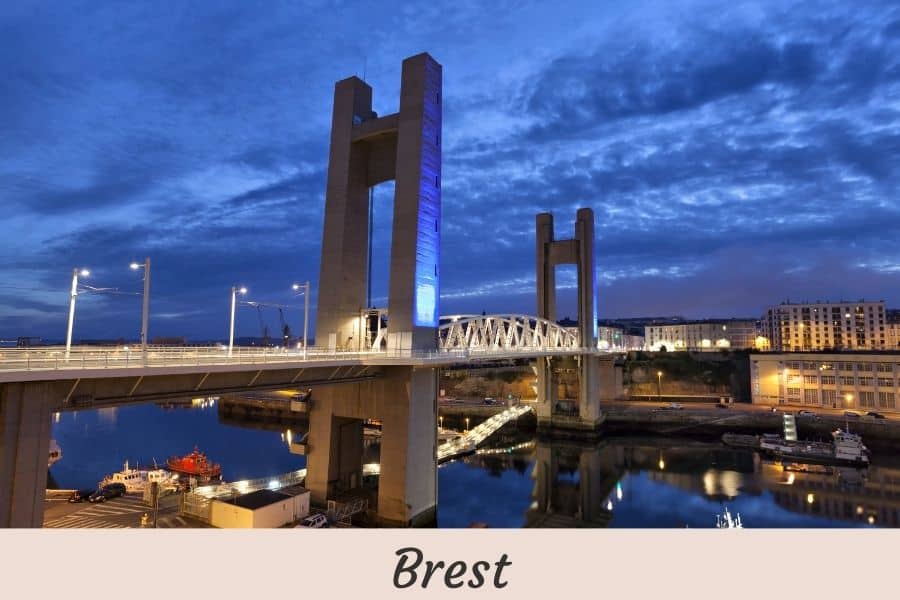 6. Quimper
Quimper is a delightful coastal French city that stands on the shore and is also Brittany's oldest city. The city is dominated by the soaring twin spires of the Gothic style Quimper Cathedral and all the old town features traditional, half-timbered houses. This is a great place for museum lovers as there are several to enjoy including the Fine Arts Museum which is filled with a wealth of European paintings. Quimper is famous for its faience – a type of hand-painted Breton pottery.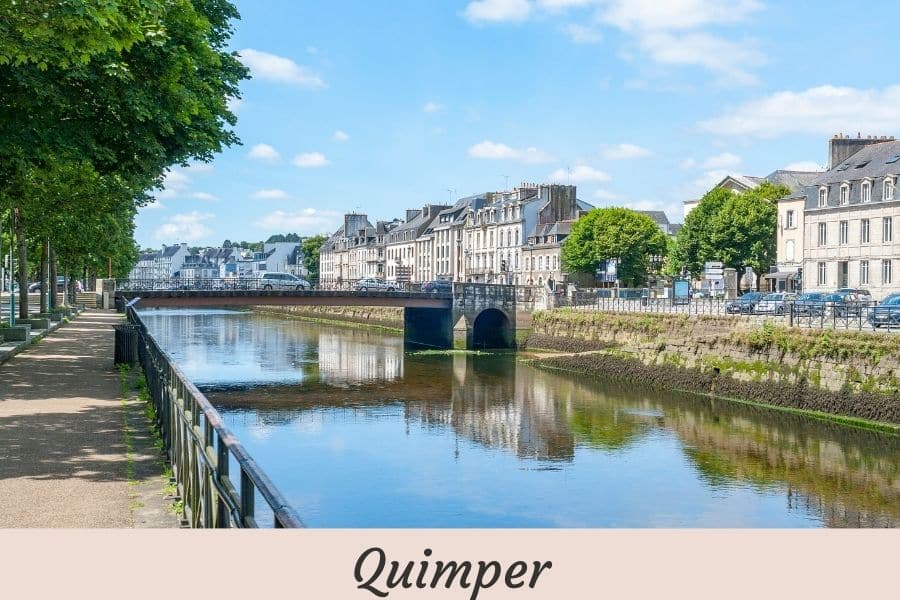 Although Quimper has a lovely sea front to enjoy for a leisurely stroll, its nearest beach, the pretty beach of Saint Gilles Beach – Bénodet is 20 km from the city center and is one of ten beaches in the close vicinity. In and around Quimper there are numerous restaurants serving ocean-fresh seafood and excellent local cider.
7. La Rochelle
La Rochelle is one of the nicest coastal French cities. It is situated in south-western France,  on the tip of Charente-Maritime peninsula which is well known for its beautiful coastline with numerous little fishing ports and sandy beaches. La Rochelle has been important for France's fishing industry for centuries and remnants of its maritime tradition can be see in the Old Harbor which is situated close to its impressive new marine – Les Minimes.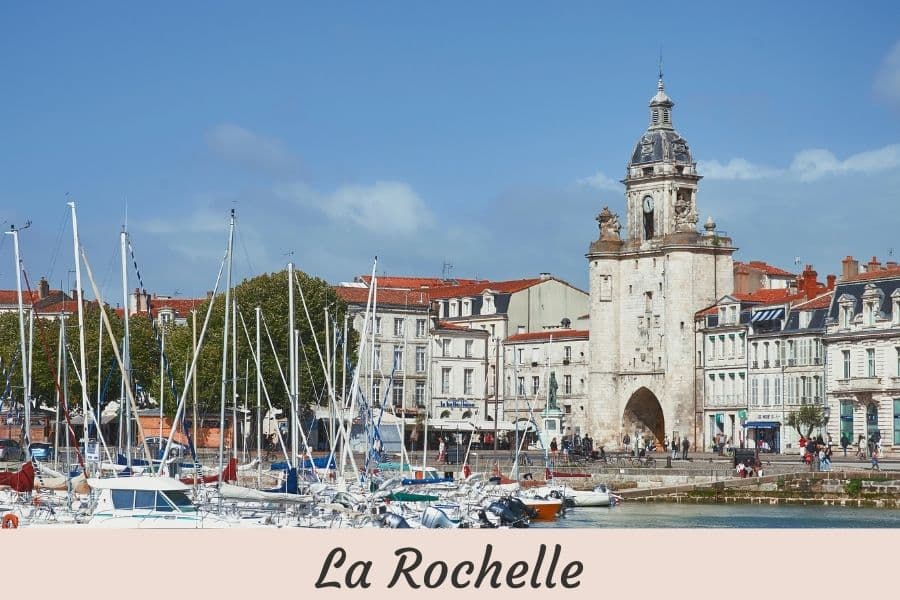 There is plenty to see and do in La Rochelle and after exploring this coastal French city it is fun to stretch out on one of its three sandy beaches "Plage de la Concurrence" is just a 5-minute walk from the city center and is ideal for families. The beach also has an access ramp for wheelchair users. Visitors are encouraged to enjoy the sea with boat trips plus kite boarding and jet ski rental. Just outside the city, you will find Châtelaillon beach – said to be one of the best beaches in Charente Maritime. The whole area is well known for its oysters and you will find numerous oyster farms strung along the coast.
8. Arcachon
Arcachon is considered one of the best French beach towns and this is certainly reflected in the house prices! Arcachon is situated in south-west France and is famous for its oysters. The town is divided into four districts – all named after a different season.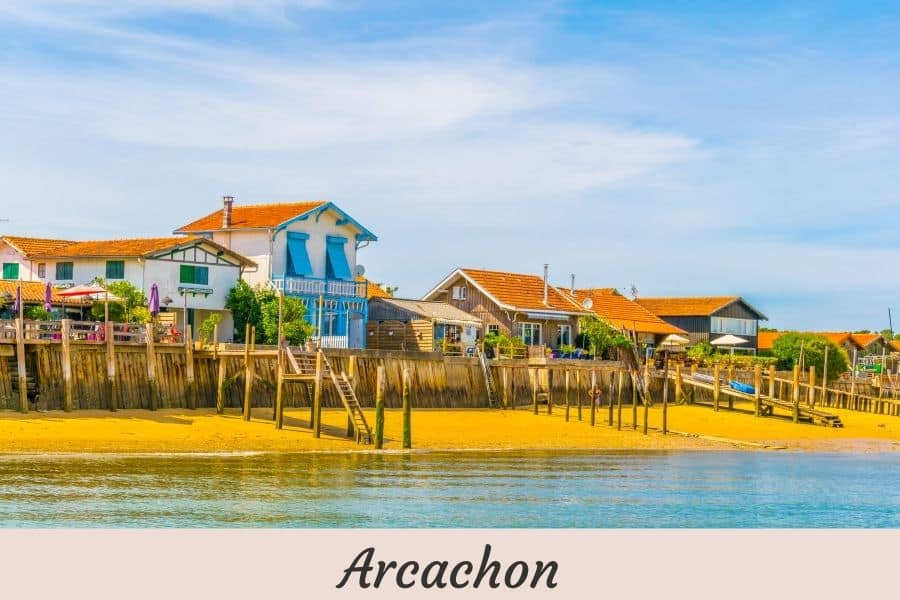 You will find all the shops and the main sandy beach in Ville d'Été (summer). In Ville d'Hiver (winter) there are gorgeous 19th-century villas to admire. Just  south of the town, stands the highest sand dune in Europe, the Dune du Pilat, which measure 102 metres. It is hard work scrambling to the top but the view makes the effort really worthwhile.
9. Biarritz
Situated on the country's south western coast overlooking the Atlantic, stands Biarritz which is a very chic and fashionable French beach town that was first made popular by Emperor Napoleon III and his Spanish wife Eugenie. Biarritz soon became popular with many European monarchs including Queen Victoria. Biarritz has beautiful beaches with rolling surf that is  much loved by surfers and the town hosts a popular surfing competition every summer. Biarritz is well known for its center for thalassotherapy which uses the local sea water in all of its treatments.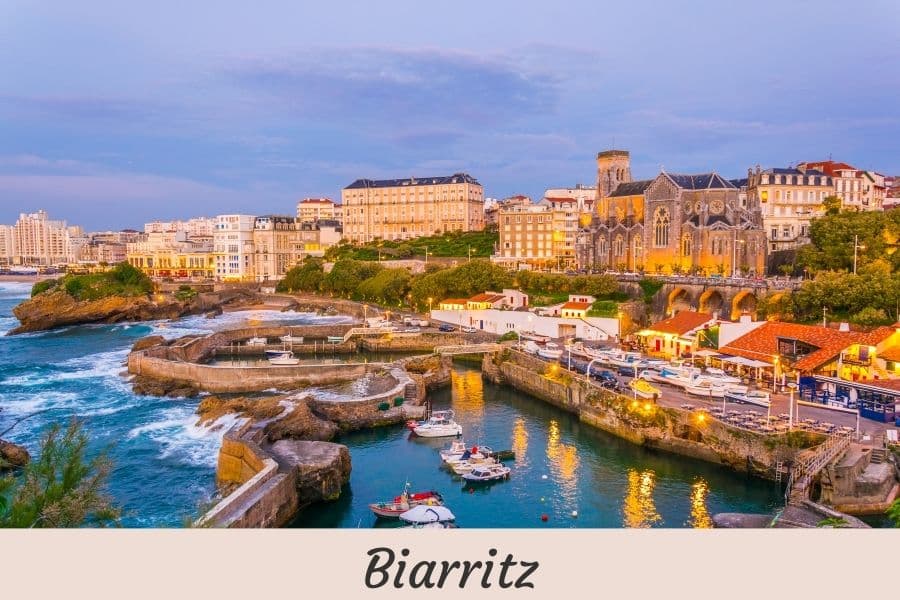 This delightful French beach town lies just a few kilometers from the border with Spain and this is reflected in the regional cuisine which is a wonderful blend of French and Spanish specialties. There is a lovely promenade that links the town's two main beaches.
10. Saint-Jean-de-Luz
This pretty French beach town overlooking the Atlantic is perfect for Instagram pictures with  its numerous white buildings topped with red roofs. Situated just along the coast from Biarritz, in the Basque region of France, it is a quiet fishing village that is protected by three sea walls. The main beach is a large golden crescent that is simply called 'the big beach' – 'le grande plage' and there are four other beaches to enjoy too, especially Lafiténia, if you are an experienced surfer.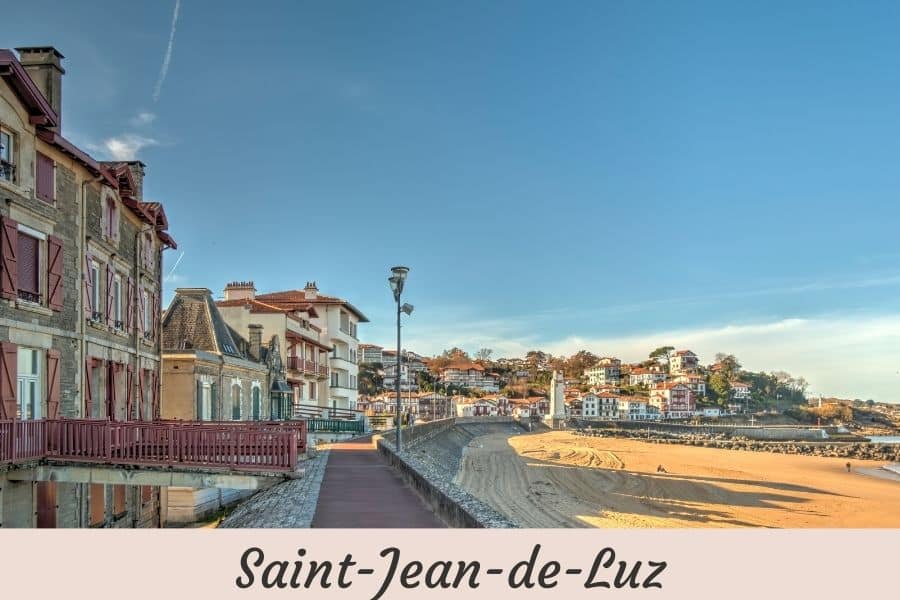 The town has always been strongly linked with Louis IV, the Sun King, as the king was married in the beautiful church of Saint Jean-Bapiste in the town. There are colorful half-timbered houses in the town and the Maison Louis XIV Museum in the town has scenes that portray life in the 17th century and the exhibit include the king's bed.
11. Marseille
Marseille is France's second largest city and is situated on the country's south-east coast, overlooking the Mediterranean. It is certainly the largest French coastal cities. Marseille is popular as it is the most vibrant of the coastal French cities and much cheaper than its star-studded neighbor, Cannes. The Old Port is a pleasant place to wander with a new cultural museum and lies close to the city's large sandy beaches. The city lies close to the famous coastal area called Les Calanques which are a series of deep coastal inlets with the most amazing clear turquoise waters.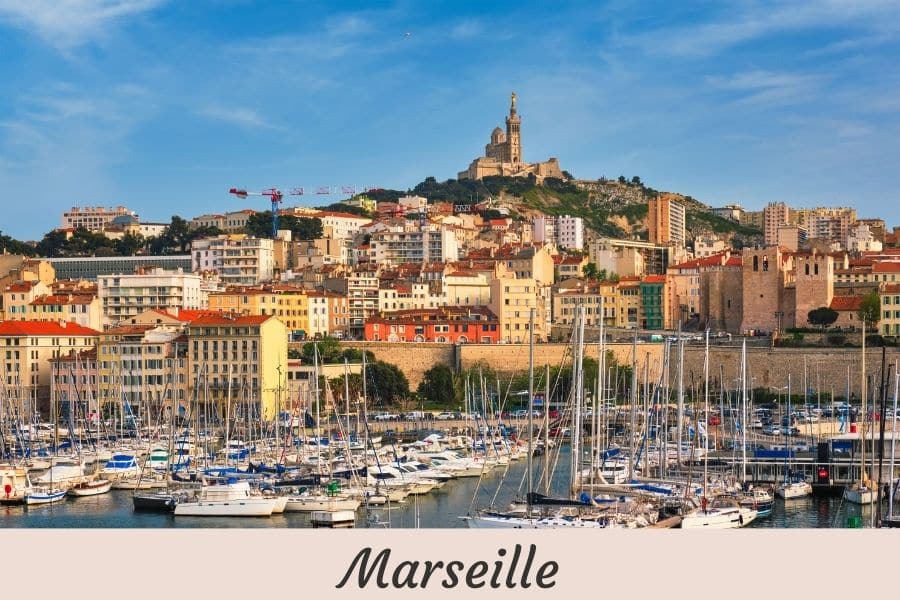 12. Cannes
Long a popular haunt for the rich and famous and world known for its international film festival, Cannes is one of the best known coastal towns in France. Situated on the beautiful French Riviera in the south of France, the town enjoys gorgeous weather all year through. Its famous  Boulevard de la Croisette, curves along the coast and is lined with soft sandy beaches and upmarket boutiques and hotels. Nothing is cheap in Cannes and only the seriously rich can afford to live there. It is definitely a fun place to visit if you want to rub shoulders with the rich and famous.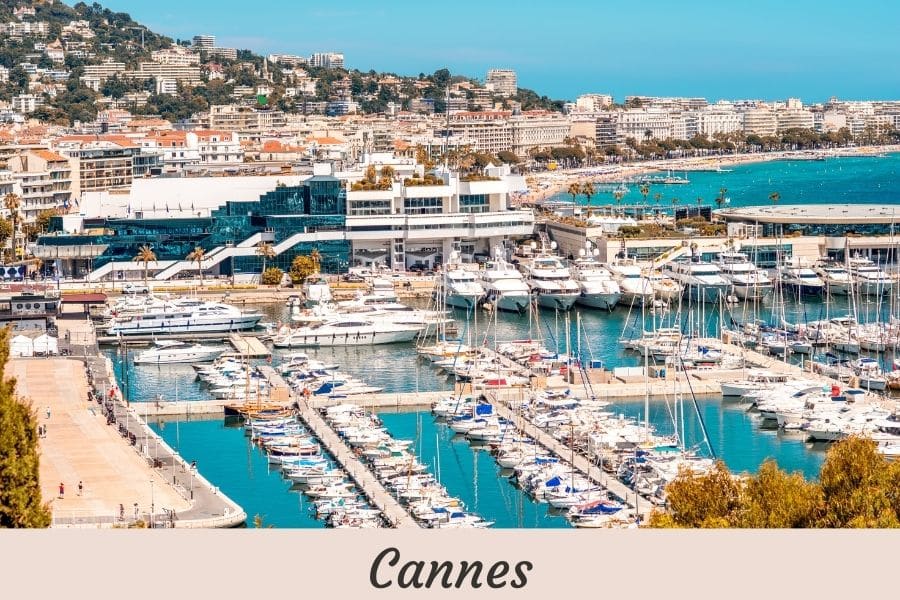 13. Nice
One of the most popular coastal French cities is Nice. Situated in the south-eastern corner of France,  Nice overlooks the ocean and has magnificent mountains as a dramatic backdrop. Nice has been a fashionable tourist resort for more than 100 years and was one of the first in France.  The wealthy upper classes including royalty used to spend the winter enjoying its lovely climate and the building of the city's famous coastal promenade, the Promenade des Anglais, was paid for by them.
As well as enjoying the beaches, the Old Town with its winding narrow streets is fun to explore. While you are in the city, it is fun to try some of the famous local dishes which include: Salade Niçoise, Ratatouille, Daube Niçoise (beef casseroled red wine). Pissaladière (a flan made with caramelized onions and anchovies) and Socca the tasty street food which is a flatbread made from chickpea flour. The perfect accompaniment to all of these is a glass of local wine!
There are so many lovely beaches and coastal towns and cities in France and each is special as it has its own individual character. Whether you like action-packed beaches with water sports, quiet, secluded coves with soft golden sand or coastal towns where you can relax with a chilled glass or fine or cider, you will definitely find the ideal place for you among France's amazing coastal spots.
Fallen in love with beautiful France? Check out more amazing articles about living in France.